Whether you call it "Kids' Night Out" or "Parents' Night Out", I call it genius.  "Kids' Night Out" (KNO) is a win-win for everyone.  The kids get to go someplace that caters to kids and having fun.  It's kind of like going to a mini-camp for 3-4 hours. Depending on where they go, they can participate in crafts, dancing, inflatable jumping fun, gymnastics, swimming, painting, play acting and fun, fun, fun.  For the parents, it's a night out – catch a movie, grab some dinner and enjoy some one-on-one time with your significant other.  A pizza dinner is usually included so you don't have to worry about cooking for the kids that night. Most options are open to everyone but a few are for members only so just double check when you register. My girls love going to KNO's.  They've been to some at Lifetime Fitness as well as Gym-Jams at Gym-Nation but there are lots of other options available.  Before booking your KNO, you'll want to check the age limit (usually it's school age) and the time frame (most are at least 3 hours).  If you have multiple siblings attending, they may offer a price break on the fee. Also, if your child has never attended a KNO, sometimes it's more fun if they go with a friend or a sibling. Here is a listing of some places that offer Kids' Night Out.  We'd love to keep adding to the list so if you know of a KNO in your area, please leave a comment so we can share with others.  Also remember to double check with the venue to make sure KNO is still valid.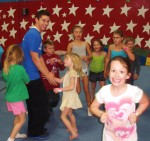 Gym-Nation – Gym Jams – My girls love Gym Jams.  It's a fun filled night when Gym-Nation in Mason hosts these events.  Usually they are held once a month from 6-9pm for . Aponte's Pizza and Capris Sun drinks are provided and they have "theme" nights where the kids can get in the spirit (Hawaiian Night, Country Western Night, Disco Night and more). They can also get their groove on with the DJ sounds of Patrick Clark from Big Juicy Ham.  If you per-register it's $15/child and the night of it's $20/child.  836 Reading Road, Mason, Ohio 45040. Call (513) 229-7315 for  more information.
Paint-n-Play – Voice of America – Held the 2nd Friday of each month from 6-8pm. Kids have fun painting a piece of pottery or coloring a "Colorful Creation Shirt". They also get to enjoy pizza, drinks and games.  Kids must be potty trained to attend.  $20/child and $15/additional sibling.  Please RSVP 2 days in advance to reserve your spot.  7671 Cox Lane, West Chester, Ohio 45069. Call (513) 759-9400 for more information.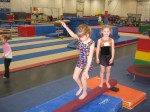 Kids First Sports Center – T.G.I.F. Kids Camp – Held on various Fridays (see website for dates) from 6-10pm. Kids get to enjoy games, gymnastics, swimming, and  more with a different theme for each camp (Star Wars, Pirate & Princesses, Harry Potter,Spring Break Out and more) .  They also get a pizza dinner. For ages K-5th grade.  $25/first child and $15/additional siblings.  Call to RSVP (513) 489-7575.
Lifetime Fitness – This is open to members only and they get a chance to drop off their kids for Kid's Night Out ($15/child).  Usually held 1-2 times/month. Activities can include games, swimming, a bounce house, movie and more. Pizza dinner included. (513) 234-0660. 8310 Wilkens Blvd, Mason, Ohio 45040.
Pump-it-Up – The West Chester location has a monthly Parents Night Out and kids ages 5-12 years can have a jumping good time from 6-10pm. They'll enjoy inflatable fun, games, crafts and prizes.  Pizza and drinks are also included. $25/child. If you check out their website, you may find a special discount if you register in advance (they were offering $5 off if registered by a certain date).  7724 Service Center Drive, West Chester, Ohio 45069. Call (513) 829-7867 for more information.
Kidz Watch Cincinnati – This is a drop off child care center for ages 6 weeks to 12 years so you could really make a KNO anytime you need it.  But on Fridays, they  are now offering "Flat Rate Fridays" where you can drop of your kiddos from 6pm to Midnight (rates start at $25 depending on the age of child). They also have "Double Dip Saturdays" where you can get double the face value on their coupons (some restrictions apply). 9727 Montgomery Road, Cincinnati, Ohio 45242. Call (513) 793-5439.
The Little Gym – The Little Gym Mason and The Little Gym Liberty Township both have "Parents' Survival Nights" – I definitely need to have my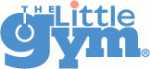 girls try the Mason location since it is just around the corner from us.  The locations alternate the fun so you can head to Mason on the 2nd and 4th Friday (6-9pm) and to Liberty on the 1st and 3rd Friday (6-9 or 6:30-9:30pm). The event includes pizza, drinks, games, crafts and lots of fun and is open to ages 3 (potty trained) to 12 years. Members are $20/child and non-members are $25/child.  Call (513) 204-1400 for the Mason location and (513) 777-1110 for Liberty Township.
Mayerson JCC – Hang at the J – The Mayerson JCC opens its doors to all kids in grades K-5 for their Hang at the J nights and includes games, crafts, dinner, a movie, a snack, and swimming.  Members are $20/first child and $15/additional sibling and non-members are $27/first child and $20/additional sibling. RSVP in advance by calling (513) 761-7500. 8485 Ridge Road, Cincinnati, Ohio 45236.
Blue Ash Recreation Center – Friday Night Flick's include a movie, dinner, crafts and fun.  This month it's on Feb. 25 from 6-8:30pm. Open to kids ages 6-10 years. $15/child. Call (513) 745-8550 for more information. 4433 Cooper Road, Blue Ash, Ohio 45242.

YMCA of Greater Cincinnati – Many Y's offer a chance for parents to take a break while their kids enjoy a fun night at the Y.  Swimming, crafts, games and more.  You'll want to check your local YMCA for dates/times and cost.
The Ralph J. Stolle Countryside YMCA – The Countryside YMCA has so much to offer. They offer KNO's throughout the year usually revolving around a Holiday (Valentine's Day, St. Patrick's Day, etc.). Their KNO's are from 5-9 and include pizza dinner, games, crafts and lots of fun.  Open to ages 6 weeks to age 12, the children are divided into age appropriate groups. The younger kids (5 and under) have fun in their staffed child care area while the older kids get to use many of the Y's facilities.  Cost is $20/one child, $25/for two and $30/for three.  In addition to their KNO's, they have pre-teen (8-13 years) and teen (13-17 years) overnights during the year from 7:30pm t0 7:00am.  These includes lots of snacks, swimming, crafts, games and fun. Cost is only $20/member and $26/non-member.  Teen members have another chance to have some fun with their Hi-Y Teen Nights held on Monday & Tuesday from 5:30-7:30pm.  For more information please call Julie Groh (513) 932-1424 ext. 142 or see their calendar of events for upcoming dates/times.
Clifton Performance Theatre – Now offering KNO's from 6:30-9:30pm on select dates for only $15/child (ages 3 and up).  They will try to offer these twice a month so check back on their website for more details.  The night includes games, crafts, play acting, and movement.  A live story telling or a short movie will conclude the night of fun. You need to register 24 hours in advance.  Call (513) 861-7469. 404 Ludlow Avenue, Cincinnati, Ohio 45220.
Mad Potter – If your kids love to paint and be creative, then sign them up for Kidz Nite at Mad Potter in Madeira. Check their website for the next date but it looks like they do these monthly from 6:30-9:00pm for ages 6-12 years. It includes pizza, games, crafts, and pottery painting. Call (513) 561-1888 for more information. Cost is $25/child and $20/additional sibling. 7754 Camargo Road, Madeira, Ohio 45243. There is also a Mad Potter in Mason, Ohio .
  If you know of any other places that offer KNO's, please leave a comment so we can keep sharing.