Cincinnati Chili: Empress Chili
I grew up on chili….Cincinnati style of course!  Since I married a chili lover, we have Cincinnati style chili at least once a week.  Joe & I both grew up in Norwood and made frequent trips to the Empress in Surrey Square Mall!   Until sadly, they closed!  Little did we know that they relocated to Hartwell!  Once we found out, we ventured there on at least a monthly basis!  With that said, we were really bummed the day ventured down there and they weren't open!
Fast forward to a few weeks ago!  We ventured to Hartwell to see my of our dearest friend's new house.  Nicole & I went to get pizza for dinner and we had to drive by Empress.  Much to my surprise their open sign was on!  I was so excited and had to stop to get a 3-way for my husband!  While watching my hubby enjoy his cheese coneys and 3-way, I was thinking how crazy I was to not get my favorite dish, a chili pizza.  So after much arm twisting, my hubby agreed to go the next day!
Empress is under new ownership and many updates were made to the place!  It is freshly painted and furniture has been updated!  Now instead of standing around waiting for your order, you grab a seat and a waitress takes your order…what great change!
So Joe got the usual…a 3-way and a cheese coney.  I got my usual…a chili-cheese pizza and cheese coney.  Our bug usually just shares with me!  She ate all the hot dog and some of my pizza!  The chili cheese pizza is now on a thin crust, then topped with chili, onions, mustard and cheese!  Then it is melted into a little slice of heaven!!  There is just something about Empress Chili!  I dare say…it is my favorite Cincinnati Style Chili!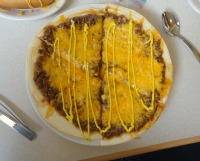 I know there are many Cincinnatians that are not Chili lovers.  Two things….1)   You do know that you live in the chili capital of the world, right?  2) there are many other things to try at Empress.   They have huge double decker sandwiches, huge salads, homemade desserts and they even serve breakfast!
If you have never tried Empress chili, be sure to stop in!  You won't be disappointed!  They are located on Vine Street, in Hartwell!  There is also a location on Alexandria Pike…which also a great experience!