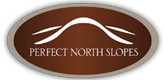 My family loves to play in the snow. We love love love sled riding and we take it as a serious sport – we have our flexible flyers (old school ones from the 50's and 60's) and our LL Bean Toboggan.  For us, it's all about speed. This year, we decided to up the ante and we went snow tubing at Perfect North.
In a word? Supercalifragilisticexpialidocious!
Here's the scoop:
Perfect North Slopes (PNS)  is located in Lawrenceburg, IN – it's relatively easy to get to for everyone in Cincinnati (it took us 52 minutes from Blue Ash).  Finding PNS was simple, no GPS needed – get off the highway and go straight until you see the snow covered hills on your left.  When you pull into PNS, tubers go to the right and skiers go straight ahead.
Checking in was quick – when you enter the building head to the counter on the left and complete a waiver, then take the completed waiver and pay.  Now, I'm not going to lie to you, it's not what we would call cheap entertainment in our family. It was $90 for our family of four to go snow tubing for 2 hours ($20/person + tax – you can go for 3 hours for $30/person). But it was some kind of fun.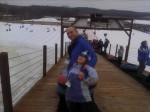 You pick up a tube – each person, including kids have to have their own tube (they have smaller ones for kids 35 lbs and under) and you head towards the conveyor belts.  Yes, that's right, conveyor belts (which PNS calls a moving sidewalk).  No steep, slip slide, can't get your boots to dig in climb up a snow covered hill for you. You ride up in style. Pure bliss. There's a right and left conveyor – the right takes you to the lower tubing lanes while the left takes you further up the hill for a longer and wilder ride.  There's also a third tubing lane on the very far right of the tubing hillside that has longer lanes as well – only multiples (meaning you form a "train") can go do down those lanes. You can get to these by riding either conveyor. But, if you take the right side up, you'll have to walk up the last 20-30 feet.
As we'd never been to PNS, which is kind of sad as I grew up in Cincinnati, we went up the right side and headed down the shorter tubing lanes for our first run.  It was fast, exhilarating and super fun! With that under our belt and no broken bones or tears we charged back up (on the conveyor, of course) and headed to the steeper tubing lanes on the left side.  Boy oh boy if we'd thought the first trip down was fun, the second was super fun! Wow wee! Did we fly down.
Once at the bottom, you grab hold of your tube rope and drag it back to the conveyor belts and you start the trip back up to the top again.  Our kids struggled pulling the tubes after the first few times, so we stacked them two up and my husband and I pulled the tubes for them.
Two hours was more than enough for us to have our fun and then some.  We didn't take any breaks (we made sure potty visits were done before we paid and got our time stamped passes) and we never had to wait very long in any lines at the top.  Even though there were tons of people, lots chose to go down in big old honkin' trains of people (some were over 20 people long), which helped keep the lines moving quickly.
A quick note about the human tube trains…. our kids are 8 and 6 – perfectly old enough to go down any/all tube lanes by themselves.  But if they had been smaller or if they'd wanted us to, we could have easily hooked our arm through their tube handles and they could have ridden down any of the tubing lanes with us.  We saw loads of parents doing just that with their younger children.
I think our favorite part of our two hours was going down together as a family.  We must have done that four of five times and it was so much fun each time. Either me or my husband would go in front with the other one of us in the third position so that all four tubes were held together by adults. Our kids weren't tall enough, strong enough  and don't have long enough arms to be able to hold on to another person's tube.  I loved being able to see the looks on my children's faces as we rushed down the hillside.
After we finished tubing, we sat by one of the fire pits located at the bottom and had a snack we'd pack from home to bring with us.  If we hadn't come prepared, we could have purchased a $2 hotdog at the concession stand which also sold drinks and LaRosa's pizza.  Bathrooms were functional if not a bit cramped for space.
Our kids wore their snow boots, snow suits, winter coats, hats and gloves.  My husband and I had on jeans and our coats, hats and gloves.  It was a warmer day when we went (39 degrees) and within a few runs, all of us had our hats and gloves off and coats were undone.  We also put on sunscreen – with the sun out and all of the bright white around, it's easy to get burnt even on a cold day.
For us, this will now become a once a year winter treat and new family tradition.  We're already looking forward to going again next Winter.
And, if you're interested in having fun while helping to raise funds for breast cancer research, check out this special event coming up later this month:

PERFECTLY PINK TUBING
Have fun and give hope while raising funds for breast cancer research. Come tubing at Perfect North Slopes Feb 22 – Feb 24 and we will donate $1 for each regular tubing ticket purchased to Dearborn County's Tour for The Cure®. 100% of these donations support the Vera Bradley Foundation for Breast Cancer, a major supporter of breast cancer research. Tubing hours on these days will be 1:00pm – 9:30pm. Tubing tickets are $25.00.
If you like this post, check me out on my personal blog at Princess Poodle Puss.