HEY READERS!  We're doing a Facebook Giveaway today to coincide with Valerie's post!  Head over to our FACEBOOK PAGE for the details and enter – contest runs through NOON tomorrow so hurry!

I have always loved pictures that have been turned into canvas.  But I will be honest, I didn't want to spend the money.  So I was really excited when Groupon came through and I was able to save on my first Canvas.  The only condition was that it wouldn't arrive until after Christmas.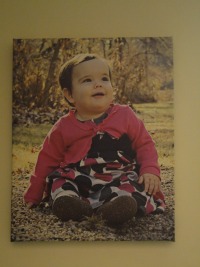 Rather than just get one, I figured my mother in law would love one too.  And we just had a successful photo shoot by Tonya Cook Photography.  So I was hooked!  My mother in law choose to have the picture of the whole family turned into a canvas.  I was going to choose our family picture, but someone in our family chose to wear sunglasses in our first professional family picture (oops…did I forget to mention it was me?)!   So I chose my favorite picture of my little bug (aka my 15 month old).
Their site is super user-friendly and I was able to place my order quite easily!  With my Groupon, I was able to select a thick wrapped 16×20 canvas.  They have sizes as small as 8×10 and large as 40X60.  Included in the price is a complimentary image enhancement and the hardware needed to hang it!  If you want black and white or sepia, that's no problem either (and no charge)!  There is opportunity for additional retouch and restoring!  I am considering having an 8×10 done of my grandmother and have it restored!  If you don't like the background, you can pick from a variety of studio backgrounds to transform your photos!
Within a couple weeks, I received my shipping information and then I had to wait!  Snow in Cincinnati and receiving a package don't mix!  I received my mother-in-law's first and it is breathtaking!   A few days later, I received the one of my little bug and I was equally impressed!  But I was confused…it was smaller than my mother in law's.  I looked at the invoice and sure enough, the bug's canvas was 16×20 and my mother-in-law's was 16×24.   I was planning on sending an email to let them know how impressed I was with their work.  So I decided to ask them about the larger size.  This is the actual response I got…."The 16×24 was a complimentary upgrade, we wanted to make sure we didn't crop out any vital parts of your image and the size change was the best way to do it."  Wow!  I am still floored by that response!  In this day and age, so many companies nickel and dime you for everything!  To hear of company giving you a complimentary upgrade is amazing!
I had to share my wonderful experience with Canvas on Demand.  If you are in need of any photos turned into to Canvas, Canvas on Demand is the way to go!  I am so excited to have our family pictures taken next year and order my next canvas!  They make a great gift for anyone!  Visit them at www.canvasondemand.com.