Our family has been attending Storytime at the Covington Library since Ella was a baby…nearly eight years!  I wanted to share with our readers the reasons why we LOVE Storytime with Ms. Amy.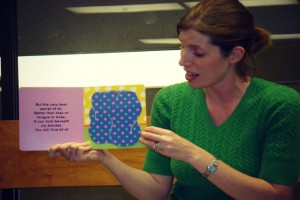 Why We LOVE Storytime:
*      Storytime shows that reading can be fun – the stories are brought to life when read with enthusiasm, inflection & character voices.  Puppets & felt boards also help to make the story come alive.
*      We've made many new friends over the years at storytime.  Friendships that go beyond the library walls.
*      Reading is an important part of our daily life in our family and going to storytime helps get the kids even more excited about reading.
*      There is something for everyone at our library (and probably at your local branch as well!).  Our library has storytimes for babes, toddlers, preschoolers, and our favorite: family storytime (for kids of all ages).
*      We LOVE Ms. Amy!  Ms. Amy is one of the fabulous Children's Librarians at the Covington Library and our whole family thinks that she is the bees knees!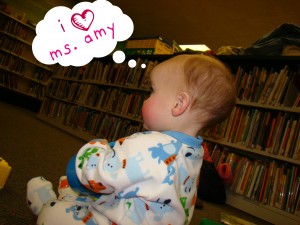 *      Storytime is not just stories, there are finger plays, music, and movement/dance.
*      Going to storytime gives us a chance to find books to bring home.  Max is always looking for cool non-fiction books (lightning, coyotes, etc).  And Ella is always needing more chapter books.  Sam likes to peruse the DVDs.
*      Listening to stories at storytime introduces us to new books.  We always come home with new books we hear about during storytime, and we have discovered many new authors as well.
Why do you love storytime?
Here's the list of times for Storytime at the Kenton County Library Covington Branch:
Siblings are always welcome!
Babes Storyland (ages 0-24 months with a caregiver) : Thursdays 10:00 am
Family Storytime (ages 0-5 with a caregiver) : Wednesdays 7:00 pm
Toddler Storytime (age 2 with a caregiver) : Tuesdays 11:00 am
Preschool Storytime (ages 3-5 with a caregiver) : Tuesdays 10:00 am
Be sure to check your local library's website for their storytime schedule.  I highly recommend you  make this a weekly outing with your children!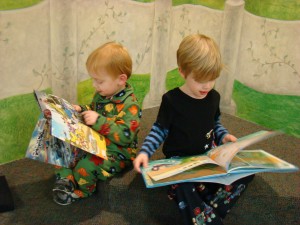 Wander on over to www.thelittlethingsjournal.blogspot.com to see what Katie and her little things are up to this week!