Smell that?  That's love in the air people!  Cupid is spritzing the whole world with smoochie dust and heart doodles.  I'm sure the grown-ups out there have their plans made for the Friday or Saturday before the big day on the 14th (if not, you better get on that, Doug).
But what about the other loves of your life?
This year, P is quite excited about Valentine's Day, or as she calls it Valemtime's.  Just after Christmas, she started asking "What holiday is next?", which loosely translated means "When can I expect more presents?".  She's had her laser beam focused on V-Day ever since.
She'll have her school celebration of course, but I thought since Valemtime's falls on a Monday, why not make a Family Date Night out of it?  And since I wouldn't go near a restaurant on Valentine's Day if you paid me, a family feast at home is in the works.
Here's the plan:  A delicious meal of Spaghetti Casserole and the WORLD'S GREATEST BUILD-YOUR-OWN SUNDAE BAR.  While dinner is cooking, we'll play a little V-Day Bingo and then round out the evening with a family-friendly romance flick.
Bingo – Vday Style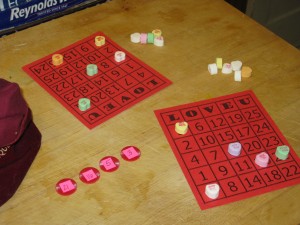 Use your computer or draw them by hand to create a bingo card for everyone in the family:
Not having 25 ping pong balls to use like real Bingo, I took poker chips and wrote the numbers on them (use a pouch for mixing and picking).  And everyone will love using conversation hearts* as covers.  Take turns being the caller and you even get to practice number recognition for the little ones!  MULTI-TASK PEOPLE!
*Maybe have a light appetizer of cheese and veggies to munch on so no one is tempted to spoil their appetite with the conversation hearts.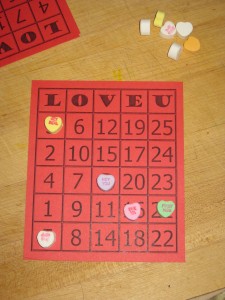 I' d love to take credit for this cute idea, but it came from Disney's Family Website – they have a ton of ideas for families of all shapes and sizes!
Dinner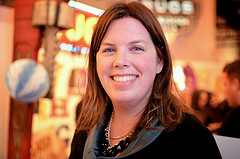 My dear friend udandi launched a wonderful new site with a couple gal-pals at the beginning of the year – Lunch It Punch It. I've gotten a ton of great ideas from it, but the best yet is her DELICIOUS recipe for Spaghetti Casserole.  The whole family loved this recipe and we've made it twice since she posted it.  This lovely photo of my beautiful friend is by Anamedia.
Spaghetti Casserole
PAN:
8×8 square (or I prefer the 11×7 brownie pan)
INGREDIENTS:
8oz spaghetti
½ lb ground beef or Italian sausage (casing removed), crumbled
14 oz (1 ¾ cup) spaghetti sauce
1 egg lightly beaten
1 ½ cup shredded mozzarella cheese, divided
¼ cup grated Parmesan cheese
INSTRUCTIONS:
Preheat oven to 375*
Spray a 8-inch square pan (or 7×11 brownie pan) with cooking spray, set aside
Cook spaghetti as directed on package
Brown meat on medium heat; drain
Stir in sauce
Reduce heat to low; simmer 5 minutes stirring occasionally
Drain spaghetti and place in large bowl
Add beaten egg, 1 cup of mozzarella cheese and Parmesan cheese; toss to coat
Place in prepared baking dish
Top with meat mixture
Sprinkle with remaining mozzarella cheese
Bake 15 minutes or until heated through
Let stand 5 minutes before cutting to serve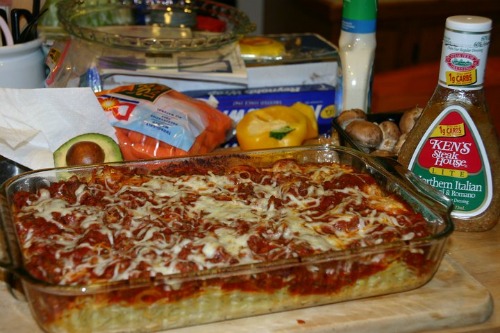 This makes 6 good size servings  – I double this recipe, not because we have a huge family but so I'll have plenty of leftovers. Match this pan of awesome with some garlic bread and a little salad and you're set.
Then our family's favorite dessert of all time: BUILD-YOUR-OWN Sundae Bar.  This is a snap!  No baking required, just a little slicing, dicing and scooping and you are the.greatest.mom(or dad).ever!
Our favorite toppers?  Bananas, REAL whip cream (we have this gadget from Williams Sonoma that makes real whip cream a snap and so much fun), cherries, sprinkles, M&M's, more sprinkles, sauces in a variety of flavors; hot fudge, butterscotch, caramel, strawberry, there is literally NO END to the options.  Doug and I agree to bite our tongue and let P do exactly what she wants, no matter the sugar level or gross factor.  Everyone gets what they want and it makes for great photos!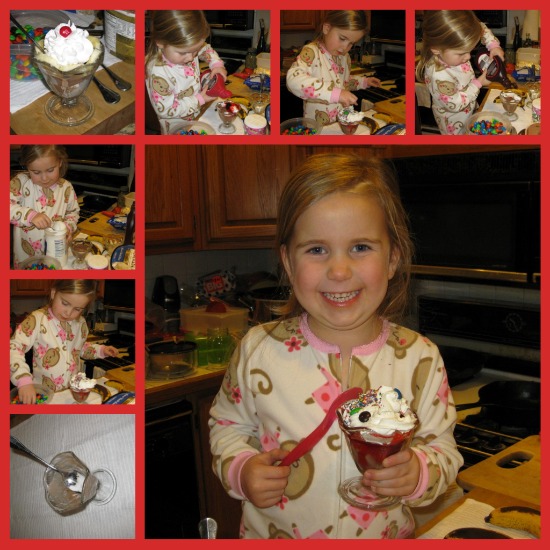 Movie Ideas
Sure, there are always the obvious choices of kid-appropriate romance stories: Cinderella, Sleeping Beauty, Pretty Woman (ha ha, wanted to make sure you were paying attention).  But here are a few more to consider:

The Lady and the Tramp (smooching pups? adorable)
Anastastia (strong girl, just a little smitten)
The Princess Bride (who doesn't love this movie?  INCONCEIVABLE!)
Shrek (even ogors need love)
Ratatouille (light on the romance, but complete with French accents)
Peter Pan (as a pre-requisite since Children's Theatre is doing Peter Pan in April!)
Little Manhattan (this is one of my favorites – so sweet, might be over the head of some of the younger kids, but perfect for families with slightly older ones)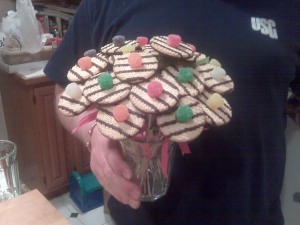 Finally, an idea for your Valentine's Day "flowers" to grace the table of your feast – something the whole family can do together and they were a huge hit last year when we took them to school!