Recently our neighborhood had a few new restaurants open up, and much to our delight, one was a Mexican restaurant!  That's right, just a hop skip and a jump away from my house is a Mexican restaurant…this could be trouble!  Mi Tierra is very family friendly, we've taken the four kids several times since they opened, and we all think it's great.
I love that whenever we go to Mi Tierra we run into people we know, and everyone who goes seems to love it.  Mi Tierra is located in Ft. Wright, in a somewhat hard to find spot.  They are in a strip mall – tucked away up on a hill behind Wal-Mart (off of Highland Pike).  They are a stone's throw away from I-275, and just minutes away from I-75, so they have quite a convenient location.  They have only been open since the fall of 2010, so the place is still shiny and new, and very very clean.  Looking at Mi Tierra from the parking lot it doesn't look very big, but when you walk in you will be surprised by how much seating they actually have!  They have a smoking section, that has a bar and tables, but because that section is in a separate room I have never noticed the smoky smell when we are sitting in the non-smoking section.  That's a plus for me when we are out with the family.  The décor is bright & fun, with huge murals covering the walls.  My kids keep themselves entertained throughout the meal by checking out the artwork.
Another thing that I love about Mi Tierra is that it's not just another chain restaurant, it is locally owned, and often times you will find the owner there, working alongside of the other servers…taking orders, working the cash register, and more.  All of the employees at Mi Tierra have been wonderful when we have visited.  The last time we went I think that every single waiter asked us how we were doing at some point during our visit.  This is nice when you have kids with you and are often in need of something, whether it be more napkins or a side of rice.  The service is always speedy and the employees are very friendly.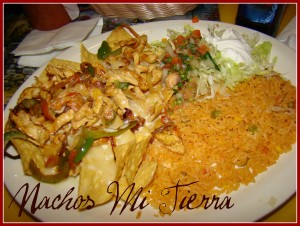 And then there is the food.  Oh, the food!  At first glance, the menu is quite like the menus of many of the Mexican Restaurants we've been too.  Mi Tierra has all of the standard items, PLUS some!  My favorite dish so far has been the Nachos Mi Tierra, which are cheese nachos smothered with grilled chicken (or beef if you choose), tomatoes, onions, and peppers.  Just talking about it here makes my stomach growl a bit.  Yum.  I've had nachos with chicken on top before, but there is something special about the way they make them at Mi Tierra.  And they are only $8.99 (see picture).  Kid's meals are $4.99 and do not include a drink, but they are given very generous portions.  My kids always get the cheese quesadilla with rice and they gobble them up.  Except this last time Sam broke the mold and got chicken fingers and fries.  Which were also tasty (I tried them).  But I think he regretted not getting his "usual" when he saw the other kids eating their quesadillas.  If you are dining at Mi Tierra and not in the mood for Mexican fare, they also have a "Ft. Wright Special" which is a 12 oz. T-bone for $12.99.  Their menu has a large selection of items, and most meals are under $10, except for the steak and seafood meals, those seem to be priced a bit higher, but still under $15.  All in all, it's a reasonably priced place to eat, and since we have four kids, we're always looking for places to eat that won't break the bank.  Oh wait!  I almost forgot to tell you about the chips and salsa!  They are very yummy, you get as much as you want of both of them.  My favorite thing though is that they give you a bunch of small bowls for your salsa, so everyone isn't reaching across the table to try to reach the one community bowl of salsa (and then you aren't grossed out when your three year old forgets his manners and double dips).  I have yet to try anything on their dessert menu, but I have had my eye on the Sopapilla, maybe next time!
So if you are in the Ft. Wright area and have a hankering for some tasty Mexican food at a decent price then be sure to stop by Mi Tierra!
Mi Tierra Mexican Restaurant
3420 Valley Plaza Pkwy
Ft. Wright, KY  41017