Having grown up in Iowa, I love the winter and I love snow . Call me crazy but there is something about the snow that's just magical to me (I even love shoveling it. I'm weird. I know).  Unfortunately, winter also brings a feeling of  "cabin fever" over our house.  To that end I am always looking for opportunities to get the boys out of the house to expend some energy.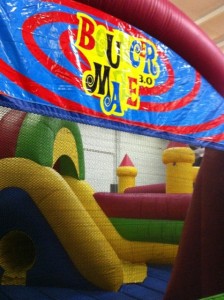 A few months ago you may remember we wrote about an offer for Jump! Zone on Groupon — $20 for a 6 visit pass. It was a great deal (normally $42) so I "jumped" on it, knowing a) that my boys would love it and b) that it would be the perfect way to get them out of the house for some fun.
If you are not familiar, Jump! Zone is one of those giant inflatable places that kids (and grownups, let's be honest) go crazy for.  They offer birthday and party packages, but also Open Play times.
The place in Florence near us is pretty great (they also have a location in Milford). They have six or seven large jump houses of all shapes and sizes. There was a giant fire truck, a basketball jumper, one that looked like a super hero as well as a few others.  For the little ones they have two smaller jump houses just for them and a small play area. There are also tables and chairs scattered throughout for parents to sit while their children play.
With the Groupon, our passes were good only during Open Play times.  Open Play typically lasts a couple of hours, and they have them just about every day, with the exception of Saturdays. Without the Groupon Open Play costs $9 per child, and it's worth it. My boys spent 1.5 hours playing and jumping and could have stayed all day if I would have let them.  If you do go in for Open Play, be sure to get there early. The day we went they hit capacity pretty quickly and had to put a sign up on the door saying they couldn't take anymore jumpers.  What a bummer to show up only to find you can't jump…… don't want that to happen!  Of note: Children must wear socks to play in the jump houses and if you want to do it with them, you'll need them too (I forgot mine….).
Prices for Jump! Zone vary depending on what you're looking for. As I mentioned before, Open Play is $9 and parties range anywhere from $159 – $259 depending on how many kids you have and what you want the party to include. They also have group pricing. If you have a group of 10 or more kids, you can call ahead and get a special price of $7 per child. If you think you'll go a lot, they do sell a 6 visit Jump Pass for $42 ($12 savings).  If you go for Open Play like we did, you might want to join Club JZ before you go. In addition to being on their mailing list for special offers, according to the website you'll instantly receive a 2 for 1 pass.
Overall I would definitely recommend Jump! Zone for a little afternoon fun. My boys loved it and can't wait to go back.
Jump! Zone
5765 Constitution Drive
Florence, KY 41042
(859) 283-5867
OR
Milford, OH, 45150
737 US Route 50
(513) 322-2521