Back in November, I did a spotlight on Kids Against Hunger.  In December, my family was able to go to KAH and help with a pack.  We learned a lot and we helped a lot. And it felt good.  Our 2 1/2 hours was well spent and I hope my kids walked away with a better understanding on how fortunate we really are.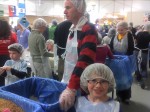 If you read my earlier post and considered signing up to help, here's a great opportunity for you to do just that. Bob Mayer at KAH, contacted me and asked me to ask all of our readers to consider helping them put a dent in ending children being hungry in Haiti.  Their kicking off a campaign called Haiti Million Meal Marathon. This is going to be a  four day event at the end of February (2/25 – 2/28) to pack life-saving food for the children of Haiti.
It's been a year since the earthquake devastated Haiti and much work still needs to be done there.  Since last year's earthquakes, volunteers working at Kids Against Hunger have produced and shipped over 1.1 million life-saving meals to the children of Haiti and KAH wants to send more as the need is still great.
Kids Against Hunger's goal during this four day packing event  is to produce 1 million meals  at a cost of $250,000. In order to make this happen, they need 3,000, yes, that's right, 3,000 volunteers from Cincinnati to step up to the plate and come out to their place in Milford and help pack.
They're planning multiple packing sessions across those four days, with most sessions lasting approximately 2 ¾ hours (Sunday sessions each last 2 1/4 hours). Session dates and times are as follows:
Friday 2/25:            Sessions starting at: 2:00pm, 5:30pm and 9:00pm
Saturday 2/26:        Sessions starting at: 9:15am, 12:45pm, 4:15pm and 7:45pm
Sunday 2/27:           Sessions starting at: 9:15am, 12:15pm, and 3:15pm
Monday 2/28:          Sessions starting at: 1:45am and 5:45pm
Can you make one of these sessions?  If you can, go to the KAH website  and sign up for a packing session.  Something to keep in mind is the cost of the food used during each packing session.  Should you volunteer for a pack, you alone will use about $120 in supplies during your session.  All of KAH funding is from private donations from individuals and groups who volunteer at the factory. If you want to help pack, but can't make a donation, that's ok. You don't have to donate in order to volunteer to pack.  You, do, though have about a month to see if any friends or family want to help out.  Maybe they can't help with their time (maybe they don't live near Cincinnati or have crazy schedules), but they can help with their pocket book.  All I know is that any donations you raise or make yourself really does go to a worthwhile cause.  Per Bob Mayer with Kids Against Hunger, over 90% of all funds go directly towards food production and the children they help.
I didn't know what to expect when we went to KAH in December.  What we found was a very clean and well run organization.  The people who helped organize us were very polite, positive and helpful individuals who really care about this organization.  And I feel the need to tell you, we worked for 2 hours straight. We didn't sit around waiting to see what needed to be done – we were assigned roles and we got jiggy with it.  It wasn't particularly difficult work, but it was continuous and each person on a production line had an important role. There wasn't time to take a break or have a potty break – if one person left the line, the production either had to halt or slow down significantly.
Overall it was a great experience.  We accomplished something wonderful by working together. It was neat to see all of the boxes of food begin to pile up as everyone worked on putting the meal packets together.  My kids enjoyed themselves and thought the work was fun.  (My 8 year old was able to work the entire time without any problems; my 6 year old would work, then get bored, then work….. but as younger kids have an adult assigned to them, it didn't stop our production abilities.)
Be sure to sign up soon as some of the time slots are already full.  And be sure to bring your friends and family along with you.  Let's up help make this a success story for both the giving spirit of Cincinnatians and for the children of Haiti.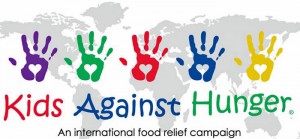 You can check our my personal musings and stories on my blog Princess Poodle Puss. Hope to see you there!