Baby it's cold outside.  But be brave and get out there for all the fun to be had this weekend.  Here are our top picks: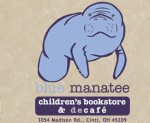 My favorite book store, blue manatee, always has so much fun going on.   This Saturday the kids can have a seat and enjoy a story time all things nature.  Starts at 10:30am.  Check their site for more details.
Penguin Days continue all weekend long (actually thru February 28th) at the Cincinnati Zoo.  Visitors get 1/2 off admission!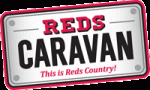 The Cincinnati Reds Caravan will make a stop at Great American Ballpark on Saturday at 11am.  See Mr. Red Legs as well as a bunch of Reds, past and present.  Opening Day is just around the corner and it's never too early to get pumped up!

As Kristin posted earlier this month, A Midsummer Night's Dream is coming to the Cincinnati Ballet AND to your library!  Catch a behind-the-scene look at this Shakespearean favorite at  Erlanger Branch of the Kenton County Library on Saturday at 2pm.  Registration is  required, call 859. 962.4002 or visit www.kentonlibrary.org/events.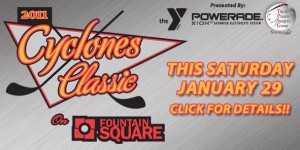 Hockey lover?  Head to Fountain Square for the Cyclone Classic at noon on Saturday.  A youth tourney will be held after which the Cyclones themselves will hold clinics for the future stars of the ice.  Then they'll show you how it's done with an exhibition game at 7pm.  The rink reopens for public skating at 8:15pm.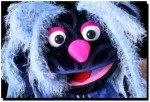 Madcap Puppets will perform Saturday and Sunday at the Cincinnati Art Museum.  There are four performances over the two days.  Enjoy the classic tale of Peter and the Wolf with the whole family – Madcap is a hit for all ages!  Visit the Museum's site for details and to purchase tickets.
Plenty of options for family fun at the Hamilton County Parks:
Bugsicles and Frogsicles at Winton Woods on

Saturday

at 2pm
Winter Hike Series continues on

Saturday

morning at 10am at Woodland Mound
"What Bird's in my Feeder?", find out on

Saturday

at Glenwood Gardens (various times through the weekend)
Sunday Jazz Brunch celebrates the Chinese New Year at Woodland Mound on

Sunday

10am-2pm; reservations are required.
Learn Papermaking from the experts on

Sunday

1pm-4pm at the Sharon Woods Visitor Center
and much, much more – check their site for all the happenings!

Cincinnati Playhouse in the Park has two things to offer families this weekend!  Susan shared the Rosenthal Next Generation Theatre Series this week, so head to Mt. Adams on Saturday, shows happen at 10:30am and 1pm.  Or see DIS/TROY, a kid-friendly version of Homer's "Iliad" at District A at Pleasant Ridge Presbyterian at 7pm on Saturday and Sunday at 12pm.  More information can be found on Playhouse's website as well.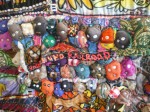 "Follow the North Star" Learn all about RagGonNon and then kids will have a chance make their own.  Free with admissions on Saturday at 12pm.  Visit the Freedom Center's site for all the details.
Star Glazers – pottery painting family fun – will be on held Saturday from 10am to 12pm at the Cincinnati Family Enrichment Center in Clifton.  Families can paint pottery all while learning chemistry and physics.  Drop in anytime during the program.  Cost is by the piece and range from $10 to $15.  The Center asks that families planning to attend send an email RSVP to [email protected].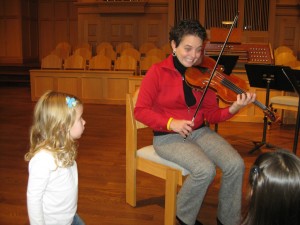 I took P to see Linton Music's Peanut Butter and Jam Session back in November and we can't wait to go back.  It's a great chance for children to develop an appreciation for music and light those initial sparks of interest that hopefully will stay with them forever.  They have a performance scheduled at the Wyoming Center for the Arts (322 Wyoming Avenue, Wyoming, OH 45215) on Saturday.  Two shows 10am and 11:30am.  Tickets are only $4 and can be purchased at the door, check their site for all the information.
Sprouts in the Kitchen will happen on Saturday at 10am at the Whole Foods Deerfield location.  Contact Whole Foods to reserve your spot 513.459.6131.
The Faculty at Cincinnati Conservatory of Music will offer a free concert on Sunday at Watson Hall at 4pm.  Call 513-556-6638 or visit ccm.uc.edu for details.
Stay warm and have a terrific weekend Cincinnati!