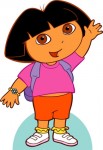 Spanish is one of those languages I've wanted to learn for years, and now after watching Dora and Diego with alarming frequency, my 4-year-old daughter wants to learn, too.
I can tell because she will often start speaking in fake Espanol, sprinkling in the occasional real Spanish word amidst a bunch of semi-Spanish-sounding gibberish. While I'm quite entertained at her "bilingual" conversations with herself, I also recognize this might be the perfect time to get her into some actual Spanish classes or lessons. She'd have a ball, and maybe even develop language skills that could help us out of a jam someday.
After doing quite a bit of research on the Spanish courses available for kids in the Cincinnati area, I thought it might help if I shared what I learned.
Cincinnati Spanish Academy
Cincinnati Spanish Academy can set you up with an instructor at your home, church, library or other location to come and play games and activities in Spanish. This way, children and families learn in a relaxed setting while having fun. They also offer group classes at the academy (located in Mt. Lookout) for kids ages 3 to 10, from beginner to intermediate. These classes run in 6-week sessions, take about an hour each, and cost around $75 per session.
Spanish Booster
Children's courses at Spanish Booster are designed to teach kids ages 6 to 16, using activities appropriate to their ages, interests and
characteristics. Each course is divided into modules of 30 hours each, completed in about 15 weeks, and takes place at Spanish Booster's new location in Mason. A six-week session costs around $125 plus the workbook.

World of Spanish
World of Spanish offers Spanish classes for children ages 3-12 (preschool through 6th grade). They meet in different locations throughout Cincinnati, offering classes during the day, before and after school. Classes cover cultural activities such as arts and crafts from Latin America, typical food tasting and cooking, and celebration of traditional Hispanic holidays. Cost is  $70 per student, $56 per additional sibling, for a 7-week session.
SpanishFUN of Ohio
Since 2006, SpanishFUN has been introducing hundreds of young children to the Spanish culture and language using the unique system of Doug Heidenreich (a.k.a. Senor Doug). His easy-to-follow, fun curriculum teaches young children Spanish basics including numbers, colors, everyday words and phrases. Most SpanishFUN classes are in conjunction with local childcare centers, preschools, and elementary schools. But parents in the West Chester/Liberty Township area can also try their Saturday morning classes at a local coffeeshop, Coffee Beans & Brew. Each class is $10 and lasts about 30 minutes.
Spanish on the Fly
Lori Wall is an accomplished Spanish teacher, and has taught elementary, high school, college and several community-based Spanish programs. Now she offers her Spanish-teaching services as Spanish on the Fly to small groups and classes at the locations of their choice. Her materials fit into any basic preschool curriculum. She can design courses for afterschool programs, group tutoring and private classes. Pricing is negotiable based on length of class, number of kids, and how in-depth the teaching will be.
Berlitz
Berlitz Language Center, located in downtown Montgomery, has offered language instruction for more than 130 years. It offers several options for children to learn Spanish, along with many other languages, ranging from before and afterschool programs to private instruction. Berlitz currently offers language classes at several schools in the Sycamore School District. Using the Berlitz method, children are guaranteed to speak the language as Berlitz's interactive approach makes language learning fun and interactive for children from ages 4 to 11. Small group classes cater to 2 to 3 students, while school programs can have as many as 12. Classes are taught by native fluent instructors and take place at the center, at homes, or at schools and daycares, which represents Berlitz's dedication to student-centered instruction.
We haven't decided which way to go yet. I'm thinking SpanishFUN's Saturday classes at a coffeeshop might be a good starting point for us. Please leave a comment if you know of other places for kids to learn Spanish in the Cincinnati area. And if you try one of these that I mentioned, tell us about it.