Tucked in the heart of "Ye Olde West Chester" (as I affectionately refer to the little historic stretch of West Chester), there's a lovely stone building filled with cool books, warm smiles and hot cups of coffee. Book Bums, the sign reads out front. What is that? I used to wonder as I drove by. A bookstore? A coffeeshop? A tutoring place?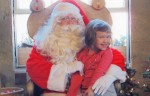 Book Bums doesn't fit neatly into any category, as it turns out. I first experienced this delightful reading nook a few months ago, as part of a West Chester Christmas Walk. My 4-year-old and I wandered in, hoping for a meet-and-greet with Santa (which we had — got a great free photo out of it!), and ended up discovering a neighborhood gem.
Christy and Mike Williams created Book Bums to be "a place where reading is fun, and where parents could learn how to most effectively support their children as readers and truly enjoy doing so." In reality, it's a combination coffeeshop, lending library, book club meeting spot, and friendly community hangout.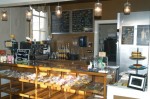 On any given day, you might see a group of adults sitting around discussing a novel, another group of preschoolers discovering the joy of reading their first words, and local friends enjoying a cup of coffee and good conversation. Christy and Mike orchestrate the whole happy scene with a true passion for what they're doing and an obvious joy for book-focused chatter in the air.
So what's in the "table of contents" for Book Bums?
Book clubs for adults, junior high, elementary, and preschool (the Book Bums motto is "We make raising readers fun!")
Beautiful dining room (comfortably seats 10) that may be reserved, at no charge
Delicious food and drinks (including coffee)
Free wifi
Live music
Local speakers
A great assortment of interesting events
I really can't say enough good things about Book Bums. If you live in the West Chester/Mason area (or if you don't mind driving out this way), please stop by some time and check it out for yourself. The best way to keep on top of what's going on there is the Book Bums website (including a login portion for book club members) and the Book Bums Facebook page.