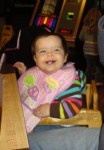 I love breakfast foods…waffles, pancakes, eggs!  I love it all!  Even better, I love a restaurant where I can get breakfast all day!  This is perfect for my family, as Joe is not as big of a fan of breakfast food as I am!  Not only does Waffle House have great food, it is also a great, family friendly restaurant!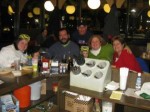 After we ventured in the frigid cold to the Beach on Ice, Amy C, myself & family ventured to the Waffle House!  My mother-in-law and P were able to warm up with hot chocolate.  While the rest of us decided to get a yummy Vanilla Coke (or diet in my case)!  There is nothing like a diet coke with real vanilla syrup!!  Joe & I always get a waffle to share…which C loves!  I would love to know how they make their waffles!  They are wonderful!!  I love their sandwiches…bacon, egg and cheese!  And of course, their hashbrowns….scattered & covered for me!  Joe loves the chili and their grilled cheese!  You can't go wrong with the All Star Breakfast…Eggs, hashbrowns, bacon and a waffle!
The service is always great at the Waffle House near us (Right off 275 on Rt 42 or Mason-Montgomery).  This time, however, we were at the one by the Beach Waterpark.  Even though we weren't at "our" Waffle House, we were not disappointed by the service!  The waitress was exceptional.  She went out of her way to make the kids feel welcome and happy!  In the mood for a great breakfast, stop by your local Waffle House!
Click here to find the Waffle House closest to you. With 15+ locations there's bound to be one near by!