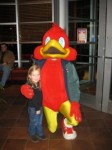 One of my all time favorite restaurants is Red Robin!  It is one of the ultimate kid-friendly restaurants!  Even when the bug was little and would have crying episodes, I never felt like I had to hurry up and leave.  To be honest, based on the noise level many people probably didn't even hear the bug fussing!
My family goes to the Red Robin on Mason-Montgomery.  We even have a favorite server…Meghan is wonderful!  Now we go, we check to see if she is there!  Joe & I would wait to be seated in her section!  Don't get me wrong…all the servers are fantastic!  It is just that Meghan has always gone above and beyond her call of duty!  For the bug's actual birthday, we decided to head to our favorite restaurant!  Unfortunately we didn't know that Meghan was there, but apparently she knew that we were!  When they came over to sing to our bug, Meghan was front and center!  She even told her co-workers that it was a little one and that they shouldn't sing as loud!  What great customer service!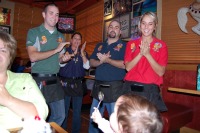 Now to the food…yummy!  I usually get the Whiskey River BBQ Burger!  BBQ sauce, cheddar cheese, onion straws…yum!  My second favorite burger is the Mushroom Burger!  It comes with swiss cheese..but I substitute Provolone!  Making substitutes is never a problem at Red Robin!!  I also love the Whiskey River Chicken Wrap!  Joe find something he likes and stays with it…his choice is the Chili, Chili Cheeseburger.  A plain burger that is made fantastic with lots of chili!  Right up the alley for my chili-loving hubby!  The kids meals are great!  The Bug usually get chicken tenders or grilled cheese!  I love the choices for sides…broccoli, apples, carrots, oranges, melon, a salad and fries!  All those healthy choices!
On any given day, Red Robin, himself, may show up!  He walks around to entertain the little ones!  Feel free to ask him to pose for some photos!  You may even see him dancing or singing for a birthday!  Before you leave…make sure you stop for a balloon!