Roller skating is alive and well in Loveland, Ohio at Castle Skateland.  My family ventured out to the Wednesday Night Family Skate and we had an absolute blast! Castle Skateland is clean, well managed and affordable.  By going on a Family Skate night, we paid $15 total for our family of four to skate.  If we'd had the kids bring their own skates, it would have been $11 ($7 admission for 4 people and $2 per person skate rental).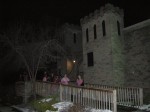 The night we went, the rink was rocking and busy.  I was told that it was unusually busy because we went while school was out for the Winter Break.  I was immediately impressed with how clean everything was.  It wasn't necessarily the newest, but it was clean and functional.
Here's the drill….. You pay your admission and if you need skates, pay the fee and get a ticket. Take your ticket to the rental desk and pick up some skates.  Adult skates are in men's sizes so go down probably a full size for women (you want them to be snug).  You can either rent a locker for your shoes/valuables or just leave them out on the little sitting areas that flank one whole side of the rink.  We chose to just leave our things out.  I've learned to plan for where we're going – no expensive shoes like EMU's or UGG's accompany us to skate rinks – my kids wore their crocs. I'm sure you're shoes would be fine, but I don't like the worry or want to take the risk so we've learned to plan for where we're going – no expensive shoes like EMU's or UGG's accompany us to skate rinks – my kids wore their crocs while coats, my purse and anything of value were left in the car and we just shuffled in quickly.
And that's all you need to know – put on your skates and go out there and have a blast!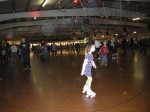 The rink was busy but people were courteous and no one tried to plow us down.  I haven't gone roller skating since maybe Jr High or Middle School. Needless to say, many many years ago.  I had a disastrous experience in not being able to ice skate last month so was pleasantly surprised to discover that I could still roller skate – Woo hoo!!!
My kids are 8 and 6 and struggled at first. This was their first trip to an actual rink and their first time on 4 wheeled skates.  If I'd done my research first, I would have realized that we could bring their in-line skates with us and I think the learning curve would have been less for them.  In fact, if you want to, Castle Skateland will teach you how to skate every Saturday from 1/8/11 through 3/26/10 from 12 – 12:45 pm.  For $6 you get the skate lesson, skate rental and after the class you can attend the open skate session from 1:00 – 3:30 pm – what a great value!
I don't think I've ever skated at Castle – the rink has walls on three sides – one long side is completely open – a bit scary at first for the novice, but it actually worked out fine.  Music on the night we went was 70's, 80's and 90's. The DJ did a slow skate, a 10 and under skate, an 11-18 skate and an adult only skate. There was just enough variety in the skates to make everyone happy.
Parents don't need to skate with their kids – in fact, lots of parents didn't skate the night we went. Castle Skateland  has an upper deck seating area by their concessions area which is adult only so you can bring your laptop or a good book. You'll be able to keep easy tabs on your kids below.
The concession area was clean and the prices were reasonable.  We paid $1.50 for medium sized drinks. Near the end of our two hour skate, my husband heard them announce 50 cent slices of pizza (I think the original price was $1.50/slice). He charged over and we got a quick and delicious snack for our kids.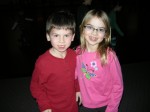 It was the perfect ending to a super fun evening!
Castle Skateland is closed on Monday, Tuesday and Thursday (open only for private parties). Family Night is Wednesday and then the weekend if full of available skate times. My husband and I talked about how much fun we had with the kids but also how much fun we would have if we decided to just go there with the two of us for a date night.  I think it would be a blast without having to worry about your munchkins.
Private parties seem to be very reasonable and if you want to go big you can have a basic private party for 50 – yes count them – 50 guests  for about $329. If that's too many, then you can opt for a public party (you share the rink with regular paying guests).
If you're looking for a good and wholesome fun place to take your family, I don't think you'll go wrong if you pick Castle Skateland.  Have you been to the Castle?  Let us know your thoughts in the Comments section below.