This family dining adventure can be a complete entertainment and dining experience all in one.  I actually received a gift card from some girlfriends for Joseph Beth Bookstore which also includes the restaurant.   With a bookstore, unique gifts, bistro and more I had a hard time deciding how to spend my gift.  Their children's bookstore is fun to just hang out in and look at books on their reading steps or play with the train set.  Plenty to do if you have to wait for a table or if you want to extend your stay after you've dined.
While I did buy a book, I had plenty left to feed our family of four so we enjoyed the fresh seasonal food offered by Bronte'.  I love the variety, freshness and mindfulness of their menu.  One of the things I love is their Cookbook Feature and seasonal menus along with their regular choices which include but not limited to quesadillas, salads, burgers, sandwiches, fish and pasta.  There is usually a soup (always good) and quiche of the day.  I really like the fact you could eat there with a variety of eating styles and everyone can be satisfied including vegetarian.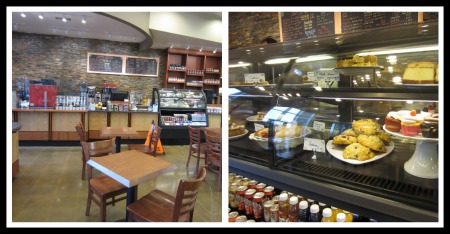 The kids menu is better than average; while they do offer some kid-friendly options such as Kraft Mac and Cheese and Chicken Tenders, Bronte also includes carrots with ranch (one of S's favorites lately) and fruit cup to round out the meal and includes a choice of juice, milk or soda.  They serve it on a slotted tray that is just fun enough for the kids and still blends into the table with the adults.  I generally like my kids to eat with and like the adults (within reason) even when we dine out because I'm not cooking separate kid meals at home.  They also have a smaller version of one of their signature pasta dishes.
This bistro defined as, a small restaurant serving moderately priced simple meals in a modest setting, is perfect for families with enough noise and light to make it kid friendly and not have to worry about them bothering a nearby table.  It's also fun to meet a friend to catch up for a leisurely lunch or breakfast.  All around, a great place for anything from coffee to a glass of wine and a snack or full meal.  And who doesn't like to browse a fun, unique bookstore.  Enjoy!