We all know that having kids and doing fun things with them can add up especially if you have more than one kiddo.  That's why I love when I read or hear about free things to do.  Recently, I took my oldest, K (age 7), to the Home Depot for their Kids Workshop.  I could have brought S (age 6) since it's geared for ages 5-12 but she decided to hang out with Dad and watch football.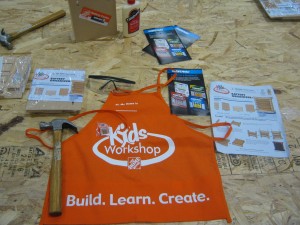 We really liked the workshop.  If you are a new participant, you'll get a Home Depot kid size orange apron. Then for each workshop they have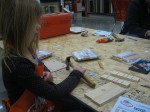 achievement pins that you add to your apron to show you completed the project.  At our Home Depot in Mason, they had an area set up with tables and flipped over orange buckets for seating (yes, I was worried when I initially plopped down but it held it's ground). The buckets are the perfect size for kids.  Small kid sized hammers and wood glue were also provided as well as the kits with instructions (make sure you read fully or you'll end up having to pull out those small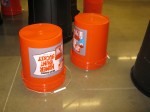 tiny nails with your daughter saying, "Daddy should have come"…..uhhh, I guess she hasn't noticed that Mommy is the one who puts together any new home building projects).
Today K got to build a wooden battery organizer.  The projects are fairly easy to construct but having an adult to help guide your child and start some of the nails, is definitely needed.  K had a great time and when we arrived a friend was there finishing up with the help of her Dad.  Actually,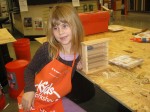 there were quite a few Dads on site which I loved seeing. This is a great family activity but it's also a nice way to have Dad (or maybe Granpa) get a little one-on-one bonding time.
The Kids Workshops are offered on the first Saturday of every month usually from 9am-Noon. No registration is required.  Since we went on New Year's Day, they adjusted the hours from 11am-2pm so it's always a good idea to double check the website or your local Home Depot for times.  On February 5, the project will be a Heart Shelf – this could make a really nice gift for Mom (hint, hint).
After your kids build their wooden projects, the creativity can continue at home since they can then paint their creations. After checking out Home Depot's website, I also saw that they have workshops for adults.  Ladies can attend the Do-It-Herself Workshops and learn how to paint, get tips on home maintenance and more.  On Saturdays in January, sign up for the free Do-It-Herself Workshop: Interior Painting Made Easy.
Last year, I highlighted the free Lowe's Build & Grow Clinics but now that we have two places to go for free building fun, it makes finding something to do on a Saturday morning even easier. Thanks Home Depot & Lowe's for providing these workshops for our kids.