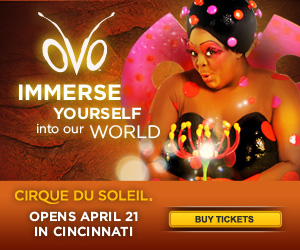 Hey everyone, we just got an email about a presale ticket deal for Cirque du Soleil's OVO that we thought you would be interested in. Presale tickets now available for Cirque du Soleil's latest touring, family-friendly  production OVO.
"Cirque du Soleil will return to Cincinnati with its latest big top touring production, OVO, starting April 21, 2011. OVO will perform for a limited engagement under the trademark blue-and-yellow Grand Chapiteau (Big Top) at Coney Island.
OVO is a headlong rush into a colorful ecosystem teeming with life, where insects work, eat, crawl, flutter, play, fight and look for love in a non-stop riot of energy and movement. The insects' home is a world of biodiversity and beauty filled with noisy action and moments of quiet emotion.
Join the Cirque Club and be eligible to purchase advance presale tickets

Membership is free and registration is quick. Cirque Club members receive advance access to the best seats under the Grand Chapiteau, ticket upgrades, partner promotions and insider information on the world ofCirque du Soleil."
From now until January 30, Cirque Club members receive $10 off Level 1, 2 or 3 tickets.