We just got back from our annual Great Wolf Lodge adventure.  I previously posted about all the fun things you can do at Great Wolf Lodge but this was our first time we've ever done MagiQuest® and it brought out my inner Harry Potter.  I think I was having as much fun as my girls as we bounced from treasure chest to secret paintings to seeing the magic Pixie Fairy and watching others trying to slay the dragon.  My girls were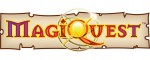 really excited to get their wands and get started.  Since the initial investment in the MagiQuest® experience consists of purchasing the reusable wand plus the game, I was hesitant about   spending the money taking the plunge since I didn't know if it would actually keep the interest of an almost six and seven year old.
But since my girls were so excited to try the game, we thought this would be the year to test it out.  They even saved their own money to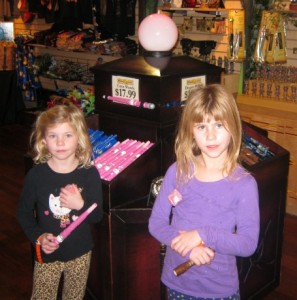 purchase their wands.  After checking in, our first stop was the MagiQuest® store.  They have an assortment of Magic Wands (ranging from $15.99 to $19.99) plus robes, dragons, princess outfits, holders for your wands, wand toppers and more.  S opted for a pink wand ($17.99) and K selected the traditional brown wand ($15.99) since somewhere between 1st-2nd grade, pink is no longer considered "cool".
We actually ended up purchasing the MagiQuest® deal that included the wand, the game and a Kingdom Compass that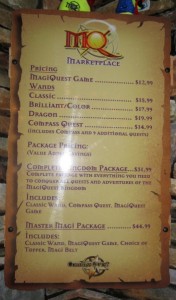 unlocks additional games (combo package starts at $31.99 depending on wand purchased).  We never got to use the Compass for CompassQuest, but we will hang on to it since the great thing about MagiQuest® is that you can come back at any time and play the game again as long as you have your wand.  The first game you purchase is good for four days so can return to continue your "Quest" if you want to take your time.   After four days, you will have to purchase a new game to play again.  The sage Magi in the wand shop told me that our MagiQuest® would take us 3-5 hours to complete (he was being kind).
We began our journey in the "Training Center" where a wise old Wizard explains proper wand waving technique (yes, there is one) and basic instructions on how to become a Magi.  The girls were wide eyed and focused on all that they had to do.  After our induction, we headed to the Quest Tree forest.  Here they got to select which Quest they wanted to try. After you get certain items and complete your Quest, you are then bestowed a Rune.  Both began with the Lightning Rune Quest but they deviated on their next Quest. They ended up completing a total of 3 quests and have another 5 or more to go.  Since I don't foresee us getting back to our wizardry adventure in the next few days, we'll have to continue our Quest another time ($12.99/game).  I can see us heading over on a rainy Saturday to continue the fun and meet even more of the characters and creatures (can't wait to meet Glittertail and Z'Nort).
It was fun seeing so many kids getting into the spirit of the game.  Some wore wizard robes and others were proudly wearing their Magic Wand holders.  We didn't purchase any of this additional garb but it was fun seeing how some kids really got in the spirit.  The thing that I really liked was that parents were actively interacting in the game with their kids.  They seemed to be having just as much fun as they entered the "Enchanted Woods", "Piney Path", "Whispering Woods", "Tangled Woods" and more. Make sure you keep your "Ancient Book of Wisdom" since it gives you a lot of useful information on what you need to look for.
MagiQuest will also keep you on your toes – so make sure you drink water and are ready to circulate throughout the hotel – the game takes place on three different levels. Whew, it plum wore me out. So, if you're looking for a really fun and unique family activity, then head over to Great Wolf Lodge.  You don't have to be a hotel guest to play the game and while you're there you are welcome to visit Cub Club, play in the arcade, eat in Camp Critter , see the Clocktower Show, and more.  The only thing you can't do without being a guest is swim in the waterpark.
You can also go on a MagiQuest® adventure at other locations in the United States and if you're ever in Japan, they have sites available there too. Wow! Locally, head over to Great Wolf Lodge Mason, 2501 Great Wolf Drive, Mason, Ohio 45040.