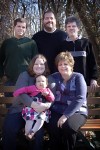 When I was growing up, we would go to a photo studio or the church basement to get family pictures taken.  Looking back on those pictures, they always make me laugh.  The photographer was more concerned with the quantity of pictures taken, not the quality.  So I have been hesitant to take C anywhere to get her pictures taken. Well Amy C told me about a great opportunity to get C's picture taken in her Halloween costume.   I was so impressed with the thought and effort that Tonya put into the preparation for the shoot.  I was even more impressed with the way she was with Miss C!   Then I saw the teaser photo on Facebook and with that, Tonya Cook Photography gained a loyal customer!  Not only did we get C's one year pictures and family Christmas pictures, but my mother in law is now hooked too!  We are already planning for next years Christmas pictures!
When I heard that Tonya decided to put together a contest to giveaway a photo shoot, I knew I had to share with the Family Friendly Cincinnati Community!!
Email your WORST photo (from a professional photo shoot!) to [email protected] by Friday January 7 at 6pm to get in on the action.  Tonya will then post the pictures in an album on her facebook page: Tonya Cook Photography to let the voting begin!  Voting will start January 8 at midnight and continue to January 14th at midnight.
Don't miss out on this great opportunity to win priceless photos.  WARNING….you may get hooked!  Also if you need family, children or senior pictures…look no further!  Visit Tonya on facebook: http://www.facebook.com/?ref=logo#!/tonyacookphotography