One of the best (and free) entertainment resources for parents is the local library. Aside from offering books for children to read, local libraries offer lots of great FREE programs and activities for children.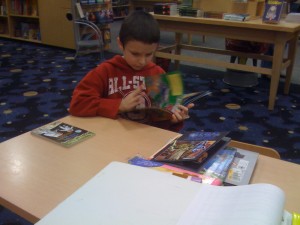 This month we're sharing with you some of our favorite picks with regards to Children's Programs from the Kenton County & Hamilton County Libraries (They send us their listings every month, which rocks). Because not all of us go to the Hamilton County and Kenton County libraries, we've included a list with links to other local library systems so you can check out their program offerings too.
Cincinnati
Public Library:
Animals & Insects
Groesbeck Branch
Wildlife in Winter: Find out
what some of your favorite
animals do in winter!
Thursday, Jan. 20, 6:30pm
Art & Crafts
Avondale Branch
Winter Crafts: Come to the
library after school for a
craft to make and take home.
Monday, Jan. 10, 3pm
Art & Crafts
Hyde Park Branch
Snowflake Window Clings,
Family Craft and Story
Time.
Tuesday, Jan. 11, 6:30pm
Art & Crafts
Loveland Branch
Valentines for Vets: Help
make Valentine Cards for
recovering veterans!
Saturday, January 22, 1pm
Black History Month
Madeira Branch
Anansi Stories: Celebrate
Black History Month with
African stories and crafts!
Tuesday, January 11, 7pm

Health & Fitness
Elmwood Place Branch
Kids Zone Health Program:
Come join us for some fun
exercising activities and a
healthy snack. Thursday,
January 27, 3:30pm
Complete list of children's
programs

Kenton County
Public Library:

Scarf It Up!
Durr Branch
Learn the basic stitches
while making a scarf.
Students will receive a knit-
ter's Bag of Basics to get
started. Saturday,
Jan. 22 & 29; 2pm
Myth Informed
Erlanger Branch
Look at some myths that
may be well-known and others
that may not be. Enjoy a
classical snack and a craft.
Ages 6-12. Thursday,
Jan. 13; 7-8pm
Bad Movie Night
Erlanger Branch
We'll be showing a film
that's so bad that it's
good! The movie title is secret,
though age-appropriate.
Teens.
Wednesday Jan. 26; 6pm
Teen AniManga Club
Covington Branch
Drop in for anime films,
manga books and art and
Japanese culture and snacks.
Grades 6-12.
Wednesdays, Jan. 19 at 4pm

Homespun: Chill Out!
Covington Branch
Let's explore the Arctic! We'll
conduct a few icy experi-
ments, make an Aurora
Borealis picture, and enjoy a
chilly snack.
Homeschoolers Grades 2-6
Monday, Jan. 24 at 1:30pm.
So You Want to Be a
Vegetarian?
Durr Branch
We'll have a real, live
expert here to talk about
vegetarianism, answer your
questions, and lots of hands-on
demos! Teen.
Tuesday, Jan. 25 at 6pm.
Complete list of children's programs.
Local libraries will also be offering a selection of programing for children and families in observance of Martin Luther King Jr. Day.
More great library systems offering wonderful programs and storytimes for children:
PS. If you work for a library and are reading this, we'd love to be added to your distribution list as it pertains to children & family programming! Just email information to FamilyFriendlyCincinnati (@) Gmail.com.