Note –> This is LAST year's post with information on ringing in 2011.
Click here for the current NYE post for info on ringing in 2012.
New Year's Eve is traditionally an adults' holiday, what with the copious amounts of champagne, rowdy partying and all. But NYE doesn't have to mean staying at home for those of us with kids (though I confess that is usually what we end up doing).
Cincinnati is offering plenty of options for families who want to live it up on Friday, Dec. 31, ranging from free and fun to splurge-y and spectacular. See what your clan might enjoy while ushering in 2011:
Newport Aquarium Kids' New Year's Eve Countdown Party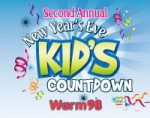 This one's for the early birds: Newport Aquarium and WARM98 are hosting their second annual NYE bash at the Aquarium from 3:30 to 5 p.m. Apparently, it was such a big hit last year they decided to do it again. There will be party hats, noise-makers and lots of fun stuff for the kids. Plus, enjoy special appearance by Scuba Santa (who needs Ryan Seacrest and Dick Clark?) for the special countdown at the kid-friendly hour of 5 p.m.
Toyota's New Year's Eve Blast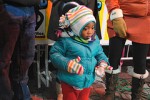 Festivities on Fountain Square in downtown Cincinnati will kick off at 8 p.m. with FREE ice skating, DJ music, drinks from the ice bar, and delicious snacks like tomato soup and grilled cheese sandwiches. Fox 19 will be live on Fountain Square during its 10 p.m. local news broadcast, and at the stroke of midnight, thousands will count down and cheer in the New Year. After the countdown, fireworks will light up the sky over Fountain Square.
Hamilton County Park District Family New Year's Eve
Families can celebrate with an early ball drop and fun festivities from 6 to 9 p.m. at the Seasongood Nature Center in Woodland Mound. The celebration will be filled with crafts and activities for the kids along with delicious New Year's snacks.  The evening's special guests will be magician Phil Dalton and storyteller Paul Ingram and will also feature balloon sculptures and face painting.  The highlight of the party will be a special ball drop at 9 p.m. to ring in the New Year, followed by live music and the goodie bags for the kids to take home. This family-friendly event is ideal for children ages 3 to 12 and cost is $5 per child.  Registration is required in advance.  Adults are free with a paid child and can participate in all the evening activities. Space is limited.
Happy Zoo Year
Celebrate with animals who are as wild as your kids at the Cincinnati Zoo's New Year's Eve celebration from 5 to 9 p.m. The evening includes Festival of Lights viewing, New Year's Eve Madcap Puppet Theatre black-light shows at 6:30, 7:30 and 8:30 p.m., meeting Baby Zoo Year and Father Time, and party favors and costume characters at 8 p.m. The Early Zoo Year countdown at Wings of Wonder Theater begins at 8:55 p.m., with fireworks at 9 p.m. All for the price of regular zoo admission (or free for members)!
The Beach's Rockin' Round the Ice New Year's Eve Bash
(CLOSED)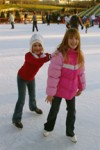 Ring in 2011 with a family-friendly, early celebration from 5 to 10 p.m. at the Beach Waterpark in Mason. Partiers will be equipped with noisemakers, party hats, and sparklers, and can enjoy the ice rink, skating, dancing and more. A buffet dinner is available. The giant beach ball drop countdown begins at 9 p.m. with hundreds of beach balls cascading onto the ice rink. The New Year's Eve Bash is included with admission.
Open Skate at Skatetown USA
Why not take the kiddos rollerskating to burn off that end-of-year energy? Skatetown USA in West Chester will hold open skate sessions from 6 to 8 p.m. for $5 a person, and from 8:30 to 11 p.m. for $6 a person.
Happen Inc.'s New Year's Eve Party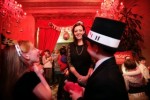 Join the folks at Happen Inc. in Northside from 5:30 to 7:30 p.m. to ring in the new year. They'll have tons of family activities, including snacks, games, fun, and surprises. At this party, the ball drops at 7 p.m. Feel free to dress up or dress down in PJs. All are welcome as they dance into the new year.
CoCo Key's Rockin' New Year's Eve
CoCo Key indoor waterpark in Sharonville is throwing its own family-friendly NYE bash. If you stay at the CoCo Key hotel overnight on Dec. 31, you'll also get four water park passes valid for two days of water park access, four Pizza Hut or A&W combo meals, breakfast for four in Tradewinds Restaurant, and a countdown to midnight in the water park with a beach ball drop and toast to ring in the new year. Rates start at $229 for a room with two double beds.
Boone County Library New Year's Celebration
Ring in the new year at the Boone County Library's Scheben Branch on Wednesday at 3:30 p.m. Attendees will make traditional New Year's resolutions and party hats. Registration required: http://tinyurl.com/2cans66
Great Wolf Lodge's Snowball
Great Wolf Lodge indoor waterpark in Mason (next to Kings Island) will have New Year's Eve activities for all ages from 7 p.m. to 12:30 a.m. Guests will enjoy face painting, glitter tattoos, crafts, DJ, games, contests, live music, a sparkling cider toast and a giant balloon drop–plus, of course, plenty of swimming and sliding. Swim as early as 1 p.m., check-in begins at 4 p.m.  Access is valid until the waterpark closes on departure day. Rates start at $449.99 on select dates and include waterpark passes for the entire stay.