As some of you may know, I love the Beach Waterpark!  It is the perfect destination for me and C for summer time fun!  So when I heard about the Beach on Ice, I had to check it out!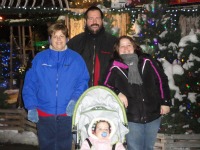 On Sunday, my family and Amy C's ventured to the Beach!  After stuffing the kids in lots of layers and snowpants, we were on our way!  We were greeted by a beautiful Train Display and a nativity scene.  Our first stop was Ice skating.  Amy, Doug and P were brave enough to take a trip around the rink!  The ice skating rink was built on the wave pool!  Quite a different site then I am used to!  Seeing the wave pool…made me wish for some warm weather!
After some ice skating, we went on a Horse Drawn Carriage ride!  The horses, Rick & Rock, did a great job guiding us through the forest to see a great light display!  While waiting for our ride, we were able to warm up by the fire!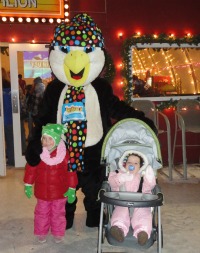 We then ventured to the petting zoo!  Our little C has not yet made it to the Zoo…but after her expressions we are planning our trip.  She loved all the animals, the bunnies, the sheep, the baby lambs, reindeer and more!  P took advantage of bottle feeding the baby lambs!  Hand feeding the animals came next!  P was a pro…but I think she was laughing at her Aunt Valerie!  I have to say I was a bit nervous feeding the animals. But they were all mild mannered and very gracious to be fed!
None of us were brave enough to conquer the Cool Running Toboggan Slide.  Maybe some one will offer me an incentive to try it out next year!  Older kids seemed to love the slide.  We saw them running back to try it again!!  There was also movies playing in the Starlight Pavillion.  On our way out…we saw the Holiday Hall set up for a Birthday Party!  What a great time kids would have at a birthday party at the Beach on Ice!!
On to one of my favorite parts of any places…FOOD!  You can stop by the Blue Grass Grill for some Hot dogs, S'mores & Funnel cakes!  Or venture to the Starlight Pavilion to grab some chili, roasted nuts and a movie!  There is also a Glier's Goetta Hut!  Yummy!!  Before you head to the rink, stop at the Skate Pavilion for walking tacos or an Italian sausage.  Before you head out, be sure you grab some Kettle Corn for the ride home!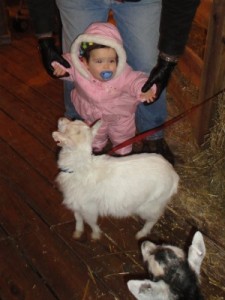 The Beach on Ice runs daily through January 2nd.  They are closed December 24th and 25th.  Sunday through Thursdays hours are 5-9PM and Fri & Saturday hours are 5-10PM.  The prices are extremely reasonable…General Admission is $9.  Kids are $5 and Kids 2 & under are free!  Discounts are offered to Seniors and the Military!  If you purchase online…discounts are offered for admission and ride tickets!!!  www.thebeachwaterpark.com  If you have a season pass, the Beach on Ice is free!  Tickets are needed for the activities…stop by the ticket booth right in front of the train display!
If you are interested…a purchase of a 2011 Season Pass includes a free parking!  Looking for a Family Friendly New Years Eve, the Beach has you covered!  They will have a DJ and a giant Beach Ball Drop at 9PM!  Perfect for the little ones!