Every Wednesday morning, you can find me and my little bug at Kids First for tumbling!  C joins 4 other 10-18 months old in a 45 minute class!  Circle times starts every class; singing & dancing for the little ones.  Then the little ones are free to play in the gym.  There are lots and lots of things to explore!  And exploring is what my little bug loves to do!  The activities wear out my little bug!!  Most days, she sleeps for a couple hours after class!
C's favorite thing is the slides!  She loves to climb up; the wrong way of course!  She also loves the "pool" of blocks!  Recently, they changed the "pool" of blocks to a pool of balls!  That has been a favorite among all the kids!  Every class ends with bubble & parachute time!  At the end of some classes, the little ones are so tired they don't even want to participate!  The little ones certainly get a workout and a great learning experience!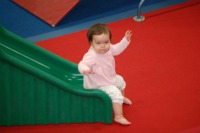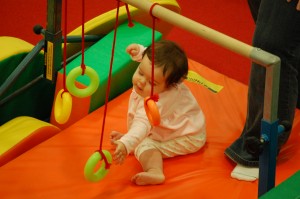 There are 8 age groups for the classes.  C is in the 1st group: the 10-18 month group.  It is a toddler & parent class.  The 19-24 month group is a transitional class in the BIG gym!  It is also a parent/tot class.  The 2 year old class is also a parent/tot class!  When C is 3, she will go to her class alone and momma will have to sit on the sidelines!  There is also a 4 year, Pre K &  Kinderbee class!  All classes are designed to be age appropriate; with lots of things to do!  Every week there is something new and exciting to do!
TERM 3 starts on January 31st.  Priority registration begins on January 15 (for current students) and then open registration starts after that!  Next term, C & I are going to hit the pool for some swim lessons!  So stay tuned for a swimming post in late February!  Check out the Kids First website to see all the other things they have to offer.   Also available is traditional gymnastics, swimming, a soccer school, dancing, karate, and much much more!!!