When it's too cold to play outside and the kids are climbing the walls, check out Run Jump-n-Play's new FREE Swings N Things Open Play Time this winter. Just think — hours of safe fun, playing indoors on 11 swing sets, an all-new basketball display court and alleyoop trampolines while you can relax. And you're ALMOST guaranteed they'll nap afterward.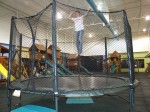 Free open play will be held on Mondays and Thursdays from 9 to 11 a.m. in the new  Swings N Things showroom during January, February, and March 2011 (except on President's Day and Martin Luther King, Jr. Day). In lieu of admission, Run Jump-n-Play is asking for a donation of one canned good per child. Donations will go to support the Shared Harvest Foodbank.
Run Jump-n-Play is located at 8481 Duke Blvd. in Mason. For more information, call (513) 701-7529 (PLAY) or visit their website.