**Contest Closed. Congratulations to NOVA!
You've won a family 4-pack of tickets to KaLightoscope Christmas in Louisville!**
A few weeks ago I had the chance to travel to Louisville to attend the opening party for a  new family-friendly holiday attraction called KaLightoscope Christmas. Before I even get going about the event, if you only read this first paragraph…. It was so cool. Really. I was so impressed.  It would make a great over-night trip and addition to your family's holiday traditions.
Produced and hosted at the Galt House Hotel, KaLightoscope Christmas is a new larger-than-life holiday attraction that includes a HUGE walk-through holiday light display, a dinner show, an mazing gingerbread villiage (you're kids will not believe their eyes), Santa & tons of elves, plus a lot more.
From the moment you arrive at The Galt House you can feel the spirit of KaLightoscope Christmas. The hotel looks magical. From the Christmas decorations on the outside of the building and the 'Elfed' shuttle busses, to the gorgeous trees and wreaths throughout the building. The Galt House is like a Christmas wonderland and the staff is in the spirit too!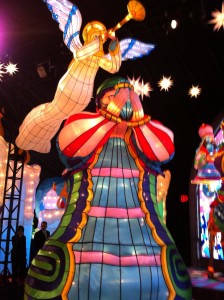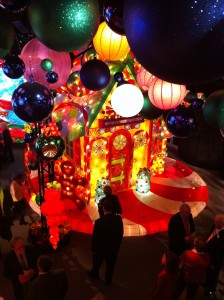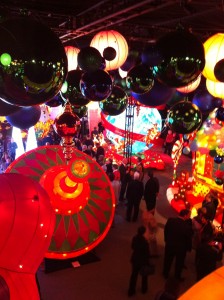 KaLightoscope Christmas is made up of seven main events (From the Galt House):
KaLightoscope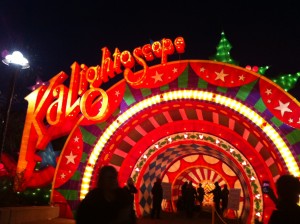 This 16,000 square foot attraction showcases a spectacular walk-through Christmas luminary experience never before seen in the United States. Composed of larger-than-life luminaries handcrafted by more than 30 Chinese artisans from Zigong, China, the unique sensory experience will magnify the sights, sounds and colors of the Christmas season. KaLightoscope will feature 12 holiday-themed sections including "Toyland", the "Christmas Tree Maze," "The Lighted Forest," and "The Nativity," among others. More than six miles of colored and patterned fabrics, along with four miles of rope and internal lighting, will adorn the individual luminary sculptures, ranging in size from 15'-17' tall and 9'-20' wide. The attraction will be available November 18, 2010-January 3, 2011. Individual ticket prices range from $14.95-$17.95 based on group size.
"Colors of the Season" Dinner Show
This one-of-a-kind dinner show, "Colors of the Season," was designed specifically for KaLightoscope Christmas by famed show creator, Gary Musick. Audiences will be whisked away to Christmas' past, as the cast and student choirs from across the country share their holiday memories through dialogue and song. The interactive show will feature a gourmet three-course meal designed by a team of Galt House executive chefs. Lunch and dinner shows are available November 18-December 24, and individual ticket prices range from $17-$25 for children and $45-$60 for adults. Children under the age of four are free.
Gingerbread Village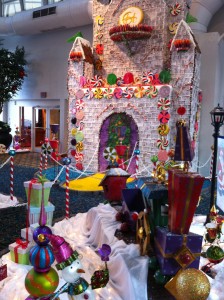 The Galt House Gingerbread Village is the world's largest, life-size, hand-crafted village created entirely from edible ingredients. Guests can walk along a gingerbread path to Santa's walk-thru Workshop, view enormous candy trees and enjoy holiday refreshments near the Gingerbread Snow Fairy Castle. While enjoying the scenery, guests can also participate in a variety events occurring in Gingerbread Village.
Breakfast with Santa and the Christmas Fairy
Children are invited to join Santa and the Christmas Fairy for a Christmas-themed breakfast buffet and some special time with these beloved Christmas characters. Breakfast for children 12-years old or younger is $30. Adult chaperones are $13.
Santa's Story time and Christmas Carols
Santa will be on hand throughout the holiday season reading Christmas stories and singing lively carols, while children munch on milk and gingerbread cookies. Tickets for children 12-years old or younger are $12.
Santa's PartyPalooza
Just outside of the Gingerbread Village Santa will be hosting a special party for children that will include refreshments, cookie decorating, dancing with Santa's elves, karaoke, face painting and games. Children will get to mingle with special guests including Santa, the Christmas Fairy, Santa's elves and other Christmas characters. Admission to Santa's PartyPalooza is $30 for children 4-12 and free for parents and children under the age of 3.
Mistletoe Marketplace
Looking for that special holiday keepsake? Louisville artisans and regional vendors will be offering a wide variety of specialty holiday items for purchase at the Mistletoe Marketplace. From one-of-a-kind ornaments to holiday crafts, this is one stop you'll want to add to your Christmas to-do list.
Here's a quick video I shot inside of KaLightoscope. I think it will give you a good idea of how MASSIVE the display is.
Overall, I would say that visiting KaLightoscope Christmas would be a good addition to your Christmas "to-do" list this year.  To help one lucky family make that happen, The Galt House has given us a 4-pack of passes to KalIghtoscope Christmas to giveaway here on Family Friendly Cincinnati!  That's Right!
How to win them? Entering is easy, and we've got a few options for you. Giveaway will close at noon on Tuesday, December 7th. We'll use Random.org to draw a winner. Make sure you include your email address so we can contact you. Winners will have 24 hours to respond.  Good luck!
1) Leave a comment sharing one of your family's favorite holiday traditions. (Required)
2) Subscribe to the Family Friendly Cincinnati eNewsletter (Green link at end of post) and leave a comment saying you did so (or that you are already a subscriber)
3) Visit the KaLightoscope website and tell us which event at Kalightoscope Christmas you're most excited to check out.
4) On Twitter? Tweet about our giveaway for an extra entry. Be sure to include @famfriendlycin & @kalightoscope in your Tweet. Leave a comment here with your Twitter name.
That's it folks. It's that easy.  For those of you who decide to stay the night, there's also a lot more going on in Louisville for the holidays.  You can find a pretty comprehensive list of things to do on the Louisville.com website as well as here on About.com. Everything from Lights Under Louisville to Louisville Slugger's A Charlie Brown Christmas exhibit to Stage One's production of The Best Christmas Pageant Ever!
Disclosure: At her last job, Shannan worked with The Galt House on KaLightoscope Christmas when it was still in it's early planning stages. We greatly appreciate them reaching out to us and offering tickets to giveaway to FFC readers.