All through the month of November there seemed to be this buzz…it seemed that everywhere I went all I heard was "Mellow Mushroom this…" and "Mellow Mushroom that…".  And although I've traveled quite a bit in my life, and I enjoy pizza very much I had not heard of this chain of pizza joints.  As the opening of the Wilder location of Mellow Mushroom drew near the buzz grew louder.  Everyone was talking about it, a friend's band had plans to play there, another friend's son had a job there, and so many people were dying to try it.  My interest was piqued.  So a few weeks ago I took two of the four munchkins and joined some of my family members for a bite to eat.  I will tell you all about my evening, and our experience there, but the bottom line was:  delicious food, fun atmosphere, and definitely family friendly!
Here's the story: when we arrived at the restaurant it was PACKED!  T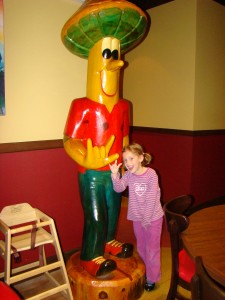 hey told us that for our party of ten it would be an hour to an hour and a half for a table.  Geesh.  We decided to wait though (did I mention I only had two of the four kids, it was like a mini-vacation).  It ended up being only 20 minutes of a wait, so BONUS!  Did I mention already that the place was packed?!  Well, it was, filled to the brim.  I felt like I was entering some hot new club or something.  There was excitement in the air.  We were seated and given a great server, he told us all about the pizzas, what were the favorites, and explained to us that the pizzas may take longer to cook because they bake them fresh to order.  We ended up ordering the Gourmet White (olive oil, garlic, sun-dried tomatoes, provolone, mozzarella, feta, vine-ripened tomatoes, and onions), the Red Skin Potato Pie (red potato, bacon, onion, sour cream, cheddar, and mozzarella, topped with chives & ranch) and the Philosopher's Pie (steak, Portobello mushrooms, artichokes, Kalamata olives, provolone, feta and mozzarella).  All three pies were delicious, but my favorite was the Philosopher's Pie, it was amazing!  I did not watch the clock because I was caught up in checking everything out and chatting with family, but the pizzas did take longer than your usual pizza chain to prepare.  They were definitely worth waiting for, there's a reason it takes a while, you get great pizza.  Everyone at our table agreed, the pizza was awesome.  Even baby henry enjoyed gnawing on the yummy crust.  I also had a Caesar Salad, it was perfect.  The baby did get a bit fidgety during the wait, but because of all the chatter and liveliness of the restaurant nobody really noticed a noisy baby.  I found that Mellow Mushroom is perfect for family dining – or for a fun date night, or a gathering of old friends.  The one thing I want to mention to those with kids is that there is no kids menu (but they do have coloring/activity sheets for the munchkins), they do however, have some child friendly options on the menu (for those of you with picky munchkins like mine) – they have cheese pizza, cheese calzones, soft pretzels, and garlic bread).
Mellow Mushroom has been around since 1974, the first location opened up in Atlanta, and now they are all over the place.  The Wilder location is the first to open in the Greater Cincinnati area though.  The owner of the Wilder location decided to open a Mellow Mushroom here after falling in love with their pizza in North Carolina while visiting his daughter in college.   And we are so glad he did!  Mellow Mushroom isn't just all about the pizza though they are also known for their HUGE selection of beer, and they also have other menu options besides pizza:  hoagies, calzones, and salads.  But I recommend the pizza.  Just writing about it is making me drool for more.
Have you been yet?  If so, what was your favorite pie?
Look for Mellow Mushroom, Wilder on Facebook!