A few weeks ago Amy, Susan, Kristin and myself had the opportunity to participate in a tour of Over-The-Rhine's Gateway District. During the tour we learned a lot about how the area has grown (40+ new businesses in OTR over the past 2 years) as well as had the chance to tour a few of the condos and visit several of the retailers and restaurants. Let me just say that it was impressive.
Included in the tour were:
* Ensemble Theatre (Check out their production of Cinderella in December)
* MiCA 12/V (Unique gifts you won't find anywhere else. This just might be my new favorite store!)
* New condos that are available  (Jaw droppingly cool)
* The Know Theatre (They have a great family friendly production coming up!)
* ArtsWave (Formerly the Fine Arts Fund; did a really cool public art project called Paint The Streets)
* Park + Vine (In the former Khaldi's; Unique green/eco-friendly products. Lots of products for kids & babies, cycling gear & related items and more)
* Coffee Emporium (great place to grab a cup of coffee and meet up with friends)
A little more about a few of the places we learned about:
When it comes to live theatre, Over-The-Rhine has some outstanding options.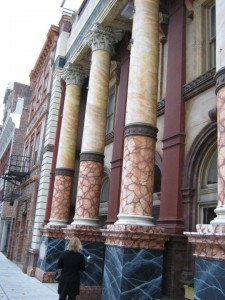 First up on our tour, The Ensemble Theatre. For years I've driven past this gorgeous building, but had never been inside. Man was I kicking myself.  Celebrating its 25th Anniversary, ETC was co-founded by two local families and not only produces quality shows, but is home to an impressive arts education /outreach program.  If you are looking to take the kids to the theatre this holiday season, Ensemble Theatre is doing Cinderella, but with a modern day twist. Tickets are super affordable and all the details can be found on The Ensemble Theatre website.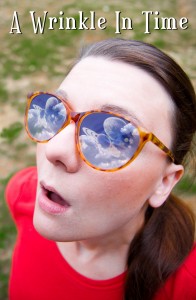 Around the corner on Jackson Street you'll find the Know Theatre. The lower level of the Know Theatre has a full bar and is a great place to meet before the show, enjoy a drink and  socialize.  When you're seated in the upper level theater, you feel like you are part of the show since it is a very intimate space.  The Know is perfect for a Girls Night Out or "date night" (have dinner at Lavomatic or Senate before the show). It's also a great place to introduce your kids to live theater when they have family-friendly theater shows (look at their upcoming "A Wrinkle in Time" or "The Finkels' Theater Show").  Parking is very easy – just park across the street in the Gateway Garage (corner of 12th and Vine) for only $2 after 5pm.  One of the best things about the Know is that it makes going to see a live performance affordable. Tickets are only $12/person if you purchase at their box office or call (513) 300-KNOW.  You can even purchase a Know Access Subscription for only $48 and you can see four shows from their seasonal line up.
In the holiday spirit? How about heading to the School for the Creative and Performing Arts (SCPA) to see The Nutcracker? SCPA presents The Nutcracker this Friday, Saturday & Sunday. SCPA's Nutcracker is family-friendly and will be the first Nutcracker performed in the new SCPA at the Kunzel Center.Visit the Cincinnati Arts Association website for details and ticket information.
In addition to retail & theatre, Over-The-Rhine has added lots of dining options over the past two years, with more on the way.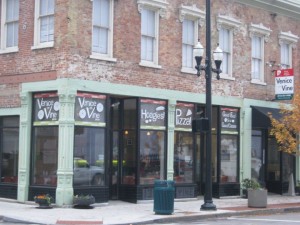 For readers looking to grab something to eat with the kids there are several options including
Venice on Vine
(stay tuned for a review) and the tasty,
Lavomatic
.  Headed out without the kiddos and want to grab a drink with friends? You might want to check out
The Lackman
or
Senate Restaurant
.  According to our tour guide there are several more options opening soon!
So, are you ready to head down and check it out for yourself?  Here are a few upcoming events you might want to check out:
Shop and Stroll
, Saturday December 4th, 11 a.m. – 9 p.m. – Main Street rolls out the red carpet for this holiday favorite! Come to Over-the-Rhine to find the best, most unique gifts from your favorite stores like Park + Vine, Atomic Number 10, Iris Book Café and more. See, shop and dine Over-the-Rhine for the holidays. Visit
http://www.mainstreetotr.com/
for all the details.
OTR Holiday Pop Up Shop
– 3CDC and the Over-the-Rhine Chamber of Commerce have come together to bring us the first locally-focused pop-up shop in Cincinnati at 1213 Vine Street in Over-the-Rhine. Six local businesses – 
Powerhouse Factories
, 
Nati Evolvement Clothing Co.
, 
Chocolats Latour
, 
Studio Vertu
, 
Artfully Disheveled
, and 
Green Bird
– have come together under one roof to sell their products, weekends through December 19th. Shop hours: Saturdays, December 4, 11 & 18, 11 a.m. – 7 p.m. & Sundays, December 5, 12 & 19, 12 p.m. – 4 p.m.
Caroling in the Quarter, Saturday December 11th, 12 p.m. – 7 p.m. Celebrate a new Over-the-Rhine tradition – Caroling in the Quarter on Saturday December 11th from noon to 7 p.m. Local choirs, including Cincinnati Men's Chorus and the Fairview-Clifton German Language School choirs, among others, will spread holiday cheer at 12th and Vine Streets in the neighborhood's Kristkindl market, a traditional outdoor German holiday market with unique gifts, traditional food and drinks to keep you warm. See, shop and dine Over-the-Rhine for the holidays. Visit www.otrgateway.com for all the details.
SantaCon, Saturday December 11th – Join fellow Santas to spread good cheer on a pub crawl throughout Downtown Cincinnati and Over-the-Rhine. This spirit filled holiday event starts on Fountain Square. Santa Clauses will sing songs, make merry, and generally spread good cheer through the city. Note you must be dressed as Santa. Visit http://www.facebook.com/CincinnatiSantacon for details.
December Final Friday, December 17th, 5 p.m. – 11:30 p.m. – Over-the-Rhine will sparkle for last minute shoppers at December's Final Friday before Christmas on the 17th. It's the perfect time to pick-up unique, locally-sourced gifts at the stores and galleries and celebrate the season at your favorite restaurants and bars. Luminaries will be placed throughout Vine, Main and 12th Streets to light the way. See, shop and dine Over-the-Rhine for the holidays. Visit www.otrgateway.com for all the details.
Have you been downtown and visited Over-The-Rhine recently? What are your favorite spots? Any restaurants you love? Retailers others need to know about?  Feel free to add to this in the comments!