Are you a working family? or maybe you just want a quick break between the start of Winter Break and the New Year?  Keeping your kids happy and busy can really be a challenge when School it out for extended periods of time.
Well, have no fear, Family Friendly Cincinnati is here!  Below is a list of camps being held in December during most Schools Winter Break.

Give a Cheer for Winter! (Cincinnati – Various Locations)
Cincinnati Parks offers a camp at a different location depending on the day you sign up:
Wednesday 12/22 from 9:30 – 2:30 at the Avon Woods Nature Preserve, 4235 Paddock Rd, Paddock Hills/N. Avondale 45229 (Age appropriate Grades 4-6; Prepay by 12/17)
Thursday, 12/23 from 9:30 – 2:30 pm at the Caldwell Nature Preserve, 430 West North Bend Road, Carthage/Finneytown 45216 (Age appropriate K-3rd Grade; Prepay by 12/20)
Tuesday, 12/28 from 9:30 – 2:30 pm at LaBoiteaux Woods Nature Preserve, 5400 Lanius Lane, College Hill/Northside 45224 (Age Appropriate K-2nd; Prepay by 12/24)
Wednesday, 12/29 from 9:30 – 2:30 pm at Trailside Nature Center, 3251 Brookline Ave, Clifton/Burnet Woods (Age Appropriate for K-3rd Grade; Prepay by 12/24)
From their website: "Celebrate the quiet calm of Winter! Join in on the fun as we hike, play games, make crafts and relax with a story. Don't forget to bundle up, pack a lunch and drink, and be ready for an exciting time. Activities will be different at each Nature Center so sign up for more than one! Fee: $15 city residents, $20 outside city. Complete and mail in form on website: www.cincinnatiparks.com/explore-nature/registration-form-downloads OR call 321-6070 to have a form mailed to you. Age appropriate for Grades 4-6. Pre-pay by Dec. 17.
For information, call 861-3435. 4235 Paddock Road, Paddock Hills/North Avondale 45229"
University of Cincinnati  – Winter Wonderland Camp 2010 (Cincinnati – Clifton)
This camp is run by UC Campus Recreation
Monday, December 20 – Wednesday, December 22
Camps is held from 7:30am – 5:30pm
Registration deadline: Wednesday, December 15, 2010
Last-minute shopping or planning to do?  R.E.C. Kids Club is proud to offer our first ever winter break camp!  Activities include winter themed crafts, games, sports, swimming, climbing, and other activities.  Beat the cold and warm up at the R.E.C. Kids Winter Wonderland Camp!
Cost: Members $125 per child/Non-members $145 per child
Note: Each child needs to bring a swimsuit, towel, and their lunch. Snacks and drinks will be provided. Children need to wear appropriate athletic attire (shorts, or wind pants, T-shirt, athletic shoes) while participating in all programs.
Contact the Coordinator at (513) 556-0603 for more information.
Campus Recreation reserves the right to cancel a program due to lack of participation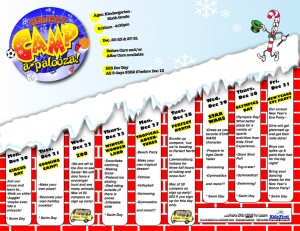 Kids First (Blue Ash, OH)
Camp is for kids Kindgerarten through 6th Grade
Dates are 12/20 – 12/23 and 12/27 – 12/31
Time is 9am – 4pm (before and after care is also available for an extra cost)
Cost – $53 day or pay for all 9 days by 12/13 and the cost is $382 (this lowers the cost to $42.44 per day!)
Every day offers something different -swimming, trip to the zoo, making snow, beach party, trip to Perfect North Slopes, Star Wars Day, Olympics Day and a New Years  Party – check out the website for each days events.
Contact Sheri Stultz at (513) 489-7575 for more information.

Camp Chabad (Blue Ash, OH)
Held at Kids First Sports Center and is for kids age 3 – 12.
Dates are 12/22 – 12/31
Time is 9:30 – 3:30 (before and after care is available)
Cost if paid by 12/1 is only $35 per day – after that date, rate is $49 a day.  A Kosher lunch is included in the price.
Activities include indoor swimming, tennis at the Five Seasons Country Club, Music Enrichment with Joanie Whittaker, Gymnastic with Kids First Coaches and much more. Check out the complete list of activities here.
Contact (513) 731-5111 for more information.
Sunrock Farm (Wilder, KY)
Tradtional farm camp runs from 12/20 – 12/24 and 12/17 – 12/30. This camp is for ages 5-11.
Pre-K Farm Camp is for ages 4-5 and runs 12/20 – 12/22; Youth Camp is for ages 12-15 and will be on 12/29
Hours are 9:30 am – 2:30 pm
Cost is $50 per day
Sunrock farm is an educational farm which teaches children a love for the land and animals through hands on experiences. Winter camp provides a wonderful time to snuggle and groom our many animals. Our campers will discover the pleasure of caring for the sheep, goats, rabbits, chickens, pigs, alpaca, and miniature horses, then move to our heated rooms for games, crafts, and surprises. Activities include hours of animal fun, food projects, nature crafts, hiking and exploring the outdoors and more.
Contact (859) 781-5502 for more information.
Cincinnati Center for Autism (Fairfield, OH)
This is a camp for children with Autism and will be held 12/27 – 12/30
Hours are 8:30 – 11:30 or 12 – 3 pm
Cost is $180 for half-day or $360 for whole day
Register by December 13
Children will be involved in holiday activities that are both fun and educational. The staff- to-child ratio will be 1:3.
Framery, Inc. (Lawrenceburg, IN)
This is a one day camp located in Lawrenceburg, IN
Camp on 12/29 is for ages 4-6  and runs from 9:30 am – 12:30 pm – cost is $25.00
Camp on 12/30 is for ages 7-14 and runs from 10 am – 2 pm – cost is $35.00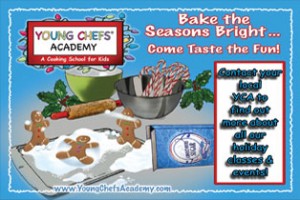 Young Chefs Academy (Mason, OH)
Baking Seasons White Mini Camp
Camps are 12/22 – 12/24 and 12/28 – 12/30 and is for ages 5-14
Hours are  9 am – 12 pm or 1pm – 4pm
Breakfast, Lunch and Dinner Delights!  One day sign ups available via phone or email only. Baked Pears, Hash Browns Breakfast.
Cost is $200 but individual day classes are also available.
Call (513) 549-CHEF for more information.
Mason Recreation Center (Mason, OH)
School's Out Fun Day is for ages 6-12 years
Cost depends on whether you are a resident of Mason or not. The non-resident cost is $38 per day. Registration date is 12/15.
12/22 – 12/23 and 12/27 – 12/31 9:00 am – 4 pm (extended care available for an additional fee)
Schedule a day of play at Mason Community Center for your school-aged children. On scheduled break days in the Mason City School District, Mason Community Center has special programming for pre-teen students. Children will participate in exciting activities, including games, arts and crafts, free time, swimming, and more. Take this opportunity for your child to meet new friends and have fun while you have the comfort of knowing where your child will be. Your child must bring a lunch, two snacks, a swimsuit, and towel each day.
Call (513) 229-8500 for more information.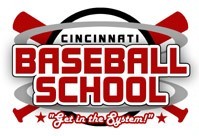 Cincinnati Baseball School (Mason, OH)
Christmas Camp
For Boys & Girls (Fast Pitch)  – Ages 5-18
Session one is 12/26 – 12/28 and Session two is 12/29 – 12/31
Cost is $125 per Session (fees include a camp t-shirt)
Give your child the gift of baseball with a holiday camp experience they won't soon forget! For 22 years, Cincinnati Baseball School has offered the number one Christmas camp in the tri-state area by teaching the fundamentals of the sport, while providing a fun and memorable experience.
System Baseball takes the guesswork out of baseball instruction, helping young athletes build muscle memory and learn proper mechanics. The System player develops all of their tools — hitting, fielding, throwing, pitching, baserunning, and mental toughness & tactical strategies. Moreover, the System is fun and engaging, designed to be relevant & accessible to even the youngest players.
Call (513) 602-5133 for more information.
YMCA Camp Ernst (Burlington, KY)
Overnight Camp is from 12/30 – 1/1/11 – Camp begins at 7pm and ends on the Saturday at 2pm
Cost is $105
There's not much information on the website so call (859)586-6181 for more information.
Do you know of any other camps running from 12/20 ish through 12/30?  Please be sure to add the information about the camp in the comment section below.
If you like this post, check out my ramblings on my personal blog Princess Poodle Puss.