The holiday season is here. That means that lots of family traditions are started or re-visited and one of our annual traditions is visiting Niederman's Family Farm to see their spectacular Christmas light display.  We also make time to visit Sharon Wood's Holiday in Lights exhibit and attend Santaland.  There are plenty of other light displays throughout the tri-state to put you in the holiday spirit and I'm hoping we'll get to visit some of them this before the end of the year.
Below is a listing of holiday light displays that are sure to dazzle.  Some you walk through and others you drive through, but all are a wonder to see.  If you know of any other holiday light displays open to the public, please leave a comment below.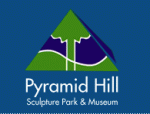 Holiday Lights on the Hill – Pyramid Hill – This is a drive through light display that is open Dec. 19  –  Jan. 2 every night (even open on the holidays) from 6-9pm Sunday through Thursday and 6-10pm Friday & Saturday. Admission is charged by the number of passengers in your vehicle – $10/1 person, $15-20/2-7 persons depending on day of week, $30-40/8-11 passengers depending on the day of the week,  and $75/12-25 passengers. 1763 Hamiltion-Cleves Road, State Route 128, Hamilton, OH 45013. Call (513) 887-9514 for more information.
Light Up Middletown – My former hometown has a great drive through holiday light display at Smith Park.  Open every day (holidays too) from Nov. 26 to Dec. 31 from 6-10pm. On Dec. 7, they will also have a special Hot Air Balloon Glow from 7-8pm (weather permitting). Santa and Mrs. Claus will also be on site for pictures ($10 suggested donation) every Friday & Saturday through Dec. 18th. Admission is by donation and you can leave your donation in the donation boxes as you drive into the park.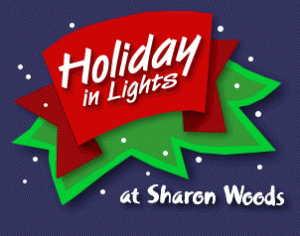 Holiday in Lights at Sharon Woods – Your family will enjoy driving through this holiday light extravaganza.  Open Nov. 19-Jan. 1 from 6-9pm on Sunday through Thursday and 6-1opm on Friday & Saturday. Admission is $12/car or $45 for buses and 15 passenger vans.  You can get a $2 off coupon if you visit their website.  If you visit between Nov. 26 – Dec. 23 make sure you stop at the Sharon Centre and go to Santaland.  Santaland is free and there will be entertainment, hot chocolate, baked goods and more. You can also get a picture with Santa for only $5.  Click here for directions.
Light up the Levee Holiday Lights Show – Visit Newport on Levee for their free holiday light display set to festive holiday music.  They have a 30 foot tall tree decorated with lights that will dazzle and shine plus other smaller trees and lots of decorations that will light up.  Enjoy the show every 20 minutes beginning at 6:10pm – 11:50pm nightly. Open now until Jan. 2, 2011.  Click here for directions.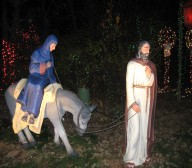 Niederman Family Farm Christmas Walk – I've written about this wonderful event last year for FFC and every year it is one of our top things to do during the holiday season.  You'll want to dress warm since this is a huge walking light display (stroller and wheelchair accessible).  It is amazing and it focuses on the bible and the birth of Christ with a life sized nativity.  There are various bible story scenes dispersed through the walk with musical Christmas melodies being played in background. The event is free, parking is free and if you stop in the big barn after the walk to warm up, you can enjoy free hot chocolate and free cookies.  After you do the Christmas Walk, stop by the barns and visit with some of the farm animals.  The Niederman's really welcome you with open arms. 4972 LeSourdsville-WestChester Drive in Liberty Township, Ohio 45011.
PNC Festival of Lights – The Cincinnati Zoo & Botanical Gardens – This is one of the premier holiday light displays in the region.  There is always so much to see and do.  Dress warm since you'll be strolling through the Zoo.  This year they've added some new events – you can visit Fairy Land and visit new themed areas. The Madcap Puppets will be performing "Winter Wonders", you can listen to a story told by Mrs. Claus, visit Gingerbread Village, send a letter to Santa at the Holiday Post Office and so much more. Oh, and there are lights, lights and lights!  Open Nov. 26 through January 2 (except for Christmas Eve & Christmas Day) from 5-9pm.  Admission is included with your Zoo ticket purchase ($14/ages 13-61, $9/ages 2-12 and Seniors (62+).  3400 Vine Street, Cincinnati, Ohio 45220. Click here for directions.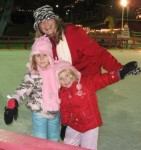 The Beach Waterpark Holiday Fest– Lots of lights will adorn The Beach Waterpark at their annual holiday fest that opens Dec. 10 – Jan. 2.  In addition to seeing all the shimmering lights, guests can enjoy ice skating, horse drawn carriage rides, a petting zoo, pony rides, and if you're brave enough, toboggan rides down the slides (I did this last year and it was a hoot).  If you purchase your tickets online, you'll get discount admission plus some ride tickets.  You do have to pay an admission charge and then some of the attractions have a separate charge. I'd recommend purchasing an all access wristband online for your kids who will most likely want to go down the toboggan slide a few times. It includes ice skate rental and unlimited rides (all access wristbands are $18/adults and $13 for kids 48″ and under, under 2 are free – these are the prices if you purchase online).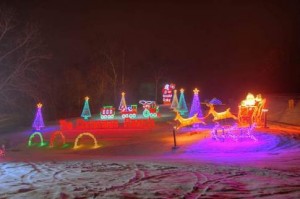 The Christmas Ranch – The Gift of Lights – Located in Morrow, Ohio, this is a walk through light display that features over 350,000 lights. "Other displays include a spectacular animated Toy Factory that is 35 feet high by 40 feet wide, a 135 ft animated drive-thru tunnel, as well as a 100 ft walk through tunnel. Don't forget to take a stroll through our forest of giant animated Christmas trees and animated figures that spin and dance to the music! (from website) It's open Nov. 26 – Dec. 31 and is open from 5-9:30pm Monday – Thursday and 5-10pm Friday, Saturday, Sunday. Admission is $12/car and $1.50/passenger in a bus with a minimum of $15.  They have wagon rides ($4) and photos with Santa.  They are closed on Christmas Day. Call (513) 697-2640 for more information. 3205 S. Waynesville, Road, Morrow, Ohio. Click here for directions.
If you want to do a day trip or overnight to some other holiday light displays you can also visit the following: