Thanksgiving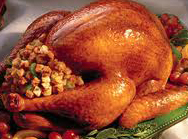 On Sunday, head to St. Boniface Church for the annual St. Boniface Thanksgiving Festival from 1-6pm. Fun includes food, booths, games, rides, raffles and entertainment. A turkey and roast beef dinner will also be available. For more information, visit http://www.stbonifacecincinnati.com/Thanksgiving-Festival-2010.html
Head to the Ellenwood Nature Barn at Farbach-Werner Nature Preserve this weekend and have fun making Thanksgiving themed crafts. Event takes place Saturday (1-4pm) & Sunday (1-4pm) and is FREE. For complete details, visit http://www.greatparks.org
The Arts
Have a teenager at home? Head to Baker Hunt Art and Cultural Center on Saturday from 9am – 12:30pm and check out Funky Figures with Charlotte Reed. Cost is $35 and registration is required. Visit http://www.bakerhunt.com or call (859) 431-0020 for details.
Saturday, check out Happen Inc's Background Signers, a fun program that will have children learning about how important backgrounds are in art and music. The fun starts at 11am and there is NO cost to participate. Call (513) 751-2345 or visit http://www.happeninc.com for more info.
Saturday, Greg Storer Art (Mason) hosts a youth art class from 1:30 – 3:30pm for children ages 9-14. Cost is $30 and supplies are included. To register (required) and for more information call (513) 403-6255.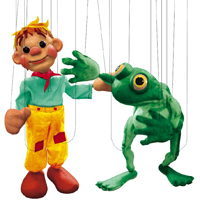 Raymond Walters College's ARTrageous Saturday's presents Peter and the Wolf & The Frog Prince. Showtimes are 11am & 1pm; cost is just $5 / $3.50 with group (10+); parking is free. Call (513) 745-5705 for more information or visit www.rwc.uc.edu/performingarts.
Check out original paintings, photographs, jewelry, ceramics and more created by Kennedy Guild members Saturday at Kennedy Heights Arts Center during Holiday Treasures. Event runs 11am – 4pm. Call (513) 631-4278 or visit http://www.kennedyarts.org for more information.
Sunday head to the Taft Museum for Third Sunday Funday. Children will enjoy songs and stories with musician Russ Childers and storyteller barb Childers, holiday craft and look for images of celebration in the Taft.. Third Sunday Funday's are free.
This weekend Colerain High School brings one of our favorite stories to stage – Alice in Wonderland! Tickets are just $10; $7, $5 students advance. Show times are Friday 7pm, Saturday 7pm and Sunday 2pm. For more information call (513) 385-6424, x 2082.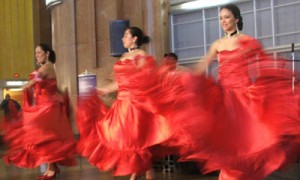 This weekend the Cincinnati Museum Center kicks off it's 2010-2011 Passport to the World Series with Latin American Culture Fest on Saturday from 10 a.m. to 5 p.m. and Sunday from 11 a.m. to 6 p.m. Visitors will get an inside-look into the beauty and richness of cultures from around the globe. You can celebrate Latin American arts and heritage through displays, performances, cultural presentations, merchandise and much more learning and fun!
Saturday and Sunday (1-4pm) you can head to the Cincinnati Art Museum for Family ARTventures. Check the website for details, but offerings include hands-on arts activities. Family ARTventures is free; parking is just $4 (free parking for members).
Christmas
Kick-off the Holiday Season in Over-The-Rhine by participating in Cincinnati Unchained this Saturday.  Shoppers will find great new and unique holiday gifts available throughout the neighborhood. A percentage of sales from the day will be donated to a local charity. Check out the details at www.buycincy.com and www.otrgateway.com.
Already in the Christmas spirit? You might want to check out the Christmas Ornament Making Party at St Theresa Textile Trove on Saturday from 1-4pm. Cost is $10; snacks and supplies provided. To register (required) call (859) 380-2833; e-mail [email protected] or visit
The Germania Society hosts its Christkindlmarkt all weekend long featuring German food, crafts, candy, ornaments, carriage rides, entertainment and more. Hosted at Germania park (and heated), the event costs $3 to attend with children 14 and under getting in for free. To check out the event schedule, visit HERE.
Ba Humbug! It's not too early to get into the holiday spirit. This Sunday Clifton Performance Theatre performs Christmas Carol at 2pm. Tickets are $10, $7 children. Visit the website for complete details.
Library
Head to the College Hill Branch Friday at 2:30pm for plenty of fun, free arts and crafts. Open to children ages 5-17.  For more information call (513) 369-6036.
Looking for a family friendly storytime? Saturday at 10:30am the Main Library hosts one for all ages in the Children's Learning Center.
The Main Library also hosts a Bi-Lingual storytime on Saturday at 11:30am.  Attendees will enjoy stories, rhymes, fingerplays & songs in Spanish and English. Takes place in the Children's Learning Center.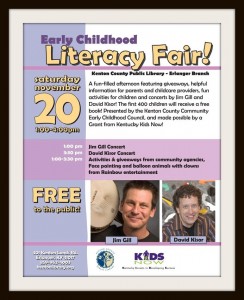 Saturday from 12:30-4pm Kenton County Public Library hosts its annual Early Childhood Literacy Fair. Open to children ages 0-5, attendees will enjoy concerts by Jim Gill and David Kisor, fun activities and face painting. They are even offering a FREE book for the first 400 children! Check out Katie's post from earlier this week for complete details.
Sports
Got soccer fans in your fam? You'll score major points if you take them to meet Olympic Gold Medalist, World Cup Champion and Soccer Hall of Famer Joy Fawcett. She'll be at the Ohio SAY State Tournament at Little Miami High School on Saturday from 9 a.m. to 3 p.m. Fawcett is visiting soccer tournaments across the country to spot moms who take cheering to a whole new league. These parents will be entered into a contest to win $5,000 for their team and an "ultimate" soccer clinic with Joy Fawcett. Fawcett will also be leading mini-clinics for young soccer players, signing autographs for fans and mentoring parents about the power of "Second-Goal" Parenting™, developed by Positive Coaching Alliance (PCA), which focuses on the "second goal" of youth sports – life lessons – along with the goal of winning on the scoreboard.