I don't know if all the theater companies and churches called each other about this weekend or what, but it sure seems like they've got some kind of conspiracy going on. That's because a bajillion theater productions and holiday craft/gift/vendor fairs, bazaars and markets are happening this weekend. And we bring you a handy roundup of all of them.
Take your pick among these and many other family-friendly activities going on across the tristate. Have fun!
Books & Libraries
Stop by your local library on Saturday to celebrate National Gaming Day. This American Library Association initiative helps reconnect communities through their libraries around the educational, recreational, and social value of all types of games. Each library location will have games and activities for the entire family, including video games, board games, card games, trivia, puzzles and much more. Also, for the first time, branches will be competing against each other in online gaming tournaments.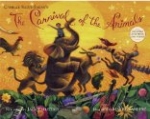 The Carnival of the Animals will be stopping by the Blue Manatee Children's Bookstore in Oakley on Saturday at 2 p.m. This "wild" storytime includes music and poems from the new edition of this beloved book, plus a special appearance by the Cincinnati Zoo's Thane Maynard and live animals.
Does your home library need a little freshening up? Check out Saturday's Community Book Fair and Meet the Author signings at Madeira Elementary School from 10 a.m. to 1 p.m. Authors Missy Griffin, Michelle Houts, Brandon Marie Miller and Linda Sanders-Wells will sell and sign their books, along with a Scholastic Book Fair, bookmark and book bag decorating and Lexi the therapy dog.
Cooking Classes
Junior Chefs ages 5-12 can learn the joy of cooking in a kid-friendly and safe environment at the Young Chefs Academy in Mason, Saturday from 9:30 to 11 a.m. Cost per class is $30.
At Whole Foods Market in Mason, kids ages 5-12 can learn about good nutrition while making food at Sprouts in the Kitchen. This Saturday at 10 a.m., the Sprouts will be learning about pumpkin. Also, the Whole Foods in Norwood will host its Kids Can Cook Too program on Saturday at 10. Both classes are free and registration is required.
Holiday Arts & Crafts Fairs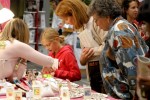 Here's a list of all the fairs, bazaars, etc. going on this weekend around town:
The Greater Cincinnati Holiday Market (this is the big one, folks) at Duke Energy Convention Center downtown, Friday and Saturday from 10 a.m. to 6 p.m., Sunday from 10 a.m. to 5 p.m. Admission is $8, free ages 13 and under.
Widows Helping Widows Creative Crafters Holiday Bazaar in Mason, Saturday, 10 a.m. to 4 p.m.
Asbury Craft Fair at Asbury United Methodist Church in Highland Heights, Ky., Saturday, 9 a.m. – 3 p.m.
Shiloh Craft Boutique at Shiloh United Methodist Church in Delhi, Saturday, 9 a.m. – 3 p.m.
Holiday Bazaar at United Ministries in Erlanger, Ky., Saturday, 9 a.m. – 2 p.m.
Jingle Bell Fair at Anderson Hills United Methodist Church in Anderson Township, Saturday, 9 a.m. – 3 p.m.
PTA Craft and Accessories Fair at Anderson High School in Anderson Township, Saturday, 9 a.m. – 3 p.m.
Fall Craft/Vendor Fair at Hamilton Church of God in Hamilton, Saturday, 9 a.m. – 5 p.m.
Craft and Gift Show at Pleasant Run Presbyterian Church in Pleasant Run, Saturday, 9 a.m. – 3 p.m.
Fall Arts & Crafts Fair at St. Vincent Ferrer School in Kenwood, Saturday, 9 a.m. – 3 p.m.
Kinderklaus Markt at Receptions Banquet and Conference Center in Loveland ($5 donation benefits Children's Hospital of Cincinnati), Saturday, 9:30 a.m. – 3 p.m.
Craft Bazaar at Spring Grove United Methodist Church in New Richmond, Ohio, Saturday, 10 a.m. – 2 p.m.
Christmas Boutique at St. Paul's Archbishop Leibold Home in Clifton, Friday and Saturday, 10 a.m. – 4 p.m.
Holiday Bazaar at Linwood Baptist Church in Linwood, Saturday, 10 a.m. – 1 p.m.
Church Mouse House Arts and Crafts Fair at First Christian Church in Fort Thomas, Ky., Saturday, 10 a.m. – 3 p.m.
Serrv Bazaar and Craft Fair at Resurrection Lutheran Church in Lebanon, Saturday and Sunday, 10 a.m. – 2 p.m.
Ohio County Historical Society Marketplace at Ohio County Historical Society and Museum in Rising Sun, Ind., Saturday, 10 a.m. – 4 p.m.
Fall Festival Craft Fair at Christ United Methodist Church in Middletown, Saturday, 10 a.m. – 3 p.m.
Keepsake Christmas Craft Show at Drawbridge Inn Hotel in Fort Mitchell, Ky., Friday, 10 a.m. – 9 p.m., Saturday, 10 a.m. – 5 p.m.
and Sunday, 11 a.m. – 5 p.m.
One-Stop Shopping Craft/Vendor Fair at First Baptist Church of Greenhills, Saturday, 10 a.m. – 3 p.m.
Holiday Boutique at Colerain Township Senior and Community Center, Saturday, 10 a.m. – 3 p.m.
Harrison Elementary Craft and Vendor Fair in Harrison, Ohio, Saturday, 10 a.m. – 3 p.m.
Arts and Crafts Show at Lakota East High School in West Chester, Saturday, 10 a.m. – 5 p.m., and Sunday, noon – 4 p.m.
Autism 4 Families Multi-Vendor and Craft Show at Calvary Baptist Church in Covington, Ky., Saturday, 10 a.m. – 3 p.m.
Dater Montessori School Craft Show, Saturday, 11 a.m. – 4 p.m.
Holiday Gift Expo at Art on the Levee Gallery in Newport on the Levee, Saturday, 2 p.m. – 8 p.m.
Holiday Events and Activities
My hometown of West Chester (which I like to affectionately call Ye Olde West Chestre) is getting into the holiday mood this weekend, starting with a Community Tree Lighting on Friday at 7 p.m. Santa helps light the tree as the Woodland Chorale performs holiday music. Then on Saturday, join the Olde West Chester Christmas Walk from noon to 8 p.m. The walk will include open houses at local shops, raffles, door prizes, free gifts, a car show, petting zoo, pony rides, make 'n take crafts, games for children and Focus on Youth hosts a mini-mall with 24 vendors. Santa and Mrs. Claus will be taking notes on wishlists at Book Bums from 1 to 5 p.m. To top it all off, enjoy a nighttime Christmas Walk Parade at 7 p.m. (All I can say is, why didn't they do this stuff when I was a kid?! We always had to go to Montgomery for these things.)
At the Behringer-Crawford Museum's Holiday Toy Trains exhibit, you can push more than 25 interactive buttons, with 250 feet of track and the opportunity to be engineer of a train. The exhibit is open Saturday, 10 a.m. – 5 p.m., and Sunday, 1 p.m. – 5 p.m. Admission is $7, $6 ages 60 and up, $4 ages 3-17; free ages 2 and under.
More Fun for the Kids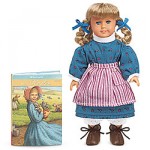 Get on board the LM&M Railroad Tea Party Express this Saturday and Sunday. During the train ride, learn about history from the mid 1800s, right during the time of American Girl® Kirsten! Passengers will have a chance to win an American Girl® Kirsten mini doll and Kirsten's Surprise book. The train departs at 10am, 11:45am and 1:30pm. Admission ($12.50-$22.50) includes a one-hour train ride, 20 minutes to deboard train and walk to Warren County Museum Center and one hour for tea and crafts.
Let out your creative side (your kids can show you how!) Saturday at Happen Inc.'s free Art Activities for Parents and Children in Northside. The 11 a.m. art session shows how important backgrounds are in art and music. The art studio is open before and after sessions.
Museum Activities
You and your preschooler can explore art at the Cincinnati Art Museum's Culture Kids class this Friday (10-11:30 a.m. and 2-3:30 p.m.). Together you'll learn about the beauty of landscapes during story times, tours, and hands-on art activities (plus snack). Cost is $10 per pair for members, $20 per pair for nonmembers ($3/$6 for each additional person). Reservations are required. Parking is free with purchase of a ticket. Then on Saturday (1 p.m.) and Sunday (3 p.m.), take a Family ARTventures tour of "Shapely Art," with touchable objects and hands-on art stops led by specially trained docents.
Outdoors & Recreation
Run like a turkey on Thanksgiving at the Turkeyfoot Trot 5K Run/Walk in Erlanger, Ky., on Saturday from 9 to 11 a.m. A 1-mile fun run and kids run are available, as well as refreshments and door prizes. Proceeds benefit St. Barbara Church. Registration is $25, $20 in advance.
Saturday is Cincinnati Cyclones Throwback Night at US Bank Arena (7:30 p.m. game time). Get $8 tickets, $1 hot dogs, $1 pizza, $1 soda and 50-cent popcorn.
Theater & Music

Did you know AMC Theatres have an "A.M. Cinema" deal that allows you to see any movie before noon for just $6 a pop? This weekend, Megamind in 3D is playing at AMC Newport on the Levee.
Linton Music's Peanut Butter and Jam Sessions continue with "It's a String Thing," Saturday (shows at 10 and 11:30 a.m.) at Wyoming Fine Arts Center. This children's chamber music series is designed for preschoolers and their families. Bonus: Free Graeter's cookies after the show! Tickets are $4 each, or $12 for a flexbook of four tickets.
Let your imagination soar with Tales of Flight with the Brothers Wright at the Cincinnati Art Museum. Orville and Wilbur may have been the first to fly, but Madcap's giant puppets will take you to new heights filled with wings, dreams, and flying machines. Shows are Saturday (11:30am & 1:30pm)  and Sunday (1:00pm & 3:00pm). Tickets are $7.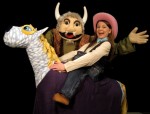 Can't get enough Madcap Puppets? On Sunday, they'll perform Annie Oakley's Wild West Show for the Clifton Cultural Arts Center's Second Sunday Family Showtime at 2 p.m. Admission is FREE for kids 12 and under, and a suggested donation of $5 for adults.
The Loveland Stage Company performs The 25th Annual Putnam County Spelling Bee, with shows on Friday, Saturday and Sunday (also next weekend). It's a musical comedy about six young people learning that winning isn't everything and losing isn't all that bad. Tickets are $16, $14 for students and seniors.
The fellas over at St. Xavier High School will be throwing a Zombie Prom for their fall production–a musical set in 1950s. When a student perishes as result of a radioactive incident and returns as a zombie, laughter ensues. Tickets are $10 each, with shows this weekend and next.
Meanwhile, the ladies of St. Ursula Academy will Play On, with the story of a theatre group trying desperately to put on a play despite interference from a fickle scriptwriter. Shows are this weekend only, with tickets priced at $10.
Ursuline Academy Stage Company is putting on The Drowsy Chaperone, an homage to American musicals of the Jazz Age, examining the effect musicals have on the fans who adore them. Shows are this weekend only, with tickets priced at $10.
The world-renowned Vienna Boys Choir performs Austrian folk songs and waltzes, classical masterpieces, beloved pop songs, holiday favorites and medieval chant. The concert is Friday at 8 p.m. in Music Hall's Springer Auditorium. Tickets are $25 to $40.
Need some laughs? Unnecessary Farce at the Covedale Center for the Performing Arts might be just the comic relief you need. The show ends this weekend; tickets are $21, $19 for students and seniors.
The Beechmont Players are doing a production of The Rainmaker, in which brothers try to marry their sister off without success during a drought in the West. This show is appropriate for ages 6 and up. Shows are Friday and Saturday at the Anderson Center. Tickets are $15, $12 for seniors and students.
Campbell County High School in Alexandria, Ky., is performing The Diviners, Jim Leonard Jr.'s earthy, funny, poignant and profoundly tragic play with echoes of Steinbeck's classic depression-era work. Shows are Friday, Saturday and Sunday, and tickets are $7.
Who doesn't love a little Music Man? Check out Cincinnati Music Theatre's production of this classic musical, which tells the story of traveling salesman Harold Hill and his visit to a small Iowa town in 1912. Shows are this weekend and next week at the Aronoff Center's Jarson-Kaplan Theater. Tickets are $19.50-$20.50.
West Chester's Lakota West High School is doing Picnic, a heartfelt play about a young girl with a steady boyfriend, who has feelings ignited when Hal, a wild stranger, breezes into town. The annual Labor Day Picnic becomes a backdrop for a tale of longing and regret. Shows are this weekend and next. Tickets are $10, $8 for seniors.
Volunteering Opportunities
Here's a great way to help people in need as a family: Prepare Affair, one of the tristate's largest single-day community volunteer event aiding low-income, elderly and disabled homeowners. Rake leaves and clean gutters for low income elderly and disabled neighbors throughout Northern Kentucky, Southwest Ohio and Indiana. Contact the folks at People Working Cooperatively to see how you can participate in the event this Saturday from 8 a.m. to 3 p.m.
Want to help improve forested habitat for native flora and fauna? Join in for Habitat Help Day at Sycamore Park in Batavia, where volunteers will help clear invasive bush honeysuckle on Saturday from 9 a.m. to noon. Bring work gloves. Light refreshments will be served after.
Whether you have a family member in the armed forces or just want to thank the troops, you can stop by Cincinnati's American Red Cross headquarters this weekend to participate in Holiday Mail for Heroes. This Veterans Day initiative sends a "touch of home" through holiday cards that contain messages of cheer and appreciation. Sign cards at the local Red Cross office in Evanston on Friday from 9 a.m. to 4 p.m. or Saturday from 9:30 a.m. to noon.