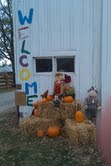 This past weekend, my son and I were on the hunt for something fun to do.  I remembered passing Daniels Petting Farm on numerous occasions and so we decided to head out and see what they had to offer.
As we drove down the drive, we were unsure of what to expect.  This was our very first trip to a petting farm and our first experience of going to an actual pumpkin patch to pick our pumpkins!
Daniels Petting Farm has so much to offer!
My son says that without a doubt, his favorite part of the day was being able to feed the many animals.  They have goats, sheep, a llama, donkey, bunnies, chickens, pigs, horses, cows, you name it!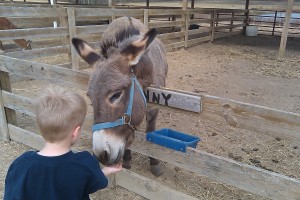 For me, I found that I had a toss up between the hay ride and the pumpkin patch to be my favorites.  The long, peaceful ride out into the field was only made better by the stories of the sweetest "older" gentleman.  I really wish I would have got his name because he truly deserves recognition.  He told of his growing up on a farm and all that this entailed for a young man.  He told of the history of the farm, the surrounding area and so many facts that many probably would never know otherwise.
Towards the end of our journey, the ride stopped so we could get off and select pumpkins.  While it is not necessary to select a pumpkin for the ride, it certainly is worth it!  Everyone spread out looking for the perfect pumpkin to call their own.  This is truly something I'd like to make a tradition for our family!  I loved going out and picking from the "patch".  There was just something about this that is so much more special and fun than picking from a box inside of the grocery store!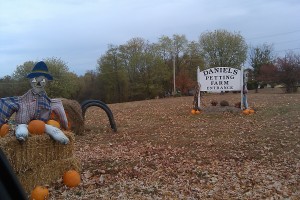 Daniels also offers a picnic area with a food and drinks, a country store with unique finds and they even have a hay maze for the kiddos.
Daniels Petting Farm
1850 Walton Nicholson Pike / Route 16
Walton, KY  41094
859-363-8623
www.danielspettingzoo.com