Calling all dog lovers!
Did you know just like humans, dogs can get cancer? It's true, and unfortunately canine cancer affects one out of every three dogs and of those, ½ will pass away from the disease.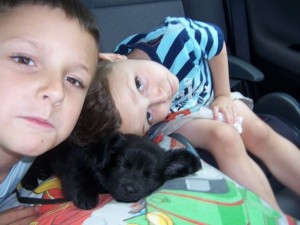 On Sunday, November 7th, you can be part of a walk that working to not only raise awareness of canine cancer, but to raise dollars for canine cancer research.
Organized by the group 2 Million Dogs, the Cincinnati Puppy Up! Walk will kick off at Newport on the Levee and cross the Ohio, venture through Sawyer Point, and then head back across the Purple People Bridge to Newport.
Cost to participate is $25 in advance (by Nov 5), $30 day off. Each registrant will receive a bandana and 2 Million Dogs bracelet with their entry fee. Individuals who raise or donate $100 will also get a walk t-shirt. On the day of the walk additional registrations will be taken starting at 1pm, with the walk kicking off at 2pm.
About 2 Million Dogs
2 Million Dogs was formed on the belief that if 2 dogs can walk 2000 miles to bring awareness to cancer surely 2 million dogs can walk 2 miles. Walks are taking place in cities across the U.S.
Register for Cincinnati Puppy Up! Walk