Let's be honest. In the grand scheme of things, when it comes to boys and haircuts, there's not much to it. Unlike girls who have a ton of options for styles, lengths, etc., boys are pretty easy. For the most part you can get their hair cut just about anywhere (walk-ins welcome!) and it will look fine. No real fuss or advanced planning needed.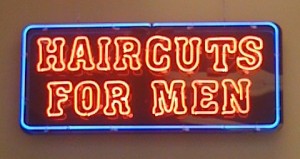 In the past I have usually gotten the boys' haircuts on a whim, you know, just popping into the nearest walk-in style salon (the kind you find in most strip malls).  That was until I was introduced to Big League a couple of weekends ago by my husband.
If you haven't heard of Big League, it is an affordable salon, focused on serving boys (and men too) and it's obvious from the moment you walk in the door. It just oozes "dude". From the big screen TV and sports quotes on the walls, to the personal TVs at each hair cutting station to the sports memorabilia decorating the walls throughout the salon.  In my son's words, "This place is so awesome!"
While I was writing this post, I asked my boys for their two favorite things about Big League, their responses: 1) That you can watch cartoons while you get your hair cut.  2) They have bleacher seats in the waiting room, just like at Great American Ball Park!
Haircuts at Big League are pretty reasonable, and they even offer packages. Pricing for the basics (from the sign at the location in Crescent Springs):
Grandslam Men's Cut: $15
Little League Kids Cut: $11
Beard Trim: $5
As a bonus, after your first visit they give you a coupon for $2 off your next cut.
So where can you find Big League locations in Cincinnati? According to the website, they've got nine locations:
In Kentucky
Burlington
Crescent Springs
Union
Walton
In Ohio
Cincinnati
Springboro
Mason
West Chester
Centerville
In a nut shell, Big League is a fun and affordable option for your guy's next haircut that will have him thinking getting a haircut is fun! It's also a great opportunity for Dad and son to go have some "man" time (and for Mom to have some Mom time!).
I should note, that while Big League is for men, I did see a little girl at the salon with her father and brother getting her haircut.