Recently, my son and I made a trip to The Boone County Farmer's Market on Route 18 in Burlington.  While this has market been around for quite some time, we had never stopped but this time the pumpkins and beautiful mums were too much to resist.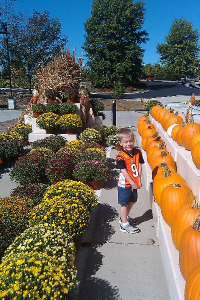 We found everything to tempt our tastebuds from homemade pumpkin bread, to jam, and even some crafts!
No farmers market would be complete without the fresh fruits and vegetables.  One vendor had so many varieties of apples and we overheard him telling a customer about the endless things you could do with each type.  He made sure to let them know which apple was best for which dish or dessert.  Not having a culinary bone in my body, I was quite impressed to know that there really is a difference and that we were in company that could direct us with our needs.
As we strolled the booths, a scrumptious aroma filled the air!  Chef Maggie Green was busy in the "kitchen" making some Spicy Butternut Squash Stew.  Saying it smelled a bit like heaven might just be an understatement.  It truly was heavenly.  Unfortunately, we had to leave before she was done so we did not get to excite our tastebuds with her wonderful dish.
Before we could leave, we had a mission to complete.  Pumpkins.  We needed pumpkins.
While at the market, we discovered something that we had never witnessed before.  WHITE PUMPKINS.
Because we like to be trend setters and mom wanted to get a little chic with her decor, we opted to get one white pumpkin.  We love it!
I still can't believe that for so long we had been passing by without stopping.  I was so impressed and loved the feel of the market so much that I wanted to encourage you to take some time and stop by your local market.  The great finds and unique feel will make your eyes come alive taking it all in.  Take the kids and if you spot the white pumpkins…pick one out and take it home!  You too will be giving your porch a fun and chic feel!
Boone County Farmers Market
6028 Camp Ernst Road
Burlington, KY 41005-0876
phone: (859) 586.6101