Last year, we lucked into tickets for Holiday Follies, an amazing musical put on by The Children's Theatre of Cincinnati.  Within minutes the whole family was hooked!  We went to the rest of the shows last season and we've been looking forward to the 2010-2011 offerings ever since!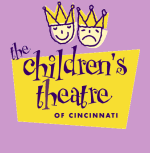 The productions are top notch and incredibly entertaining offering something for all ages – fanfare the kids love and some great humor for the grown-ups…just like those wonderful Pixar flicks!  The shows are held in the historic Taft Theater which brings back lovely memories of when I was a kid and went to shows there with my mom.  And now that I'm the MOM (WOW!), we usually make a day of it and either have lunch or dinner downtown (highly recommend the Bolognese at Via Vite if you are looking for suggestions) and take in all the sights this fine city has to offer.
This season is sure to be fantastic: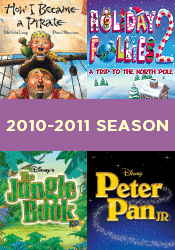 Up first is How I Became A Pirate which opens on October 15th runs Saturdays and Sundays thru October 23rd (so ACT FAST!).  Next will be the much anticipated (at least in our house) debut of Holiday Follies 2 in December!  This show was probably our favorite part of the holiday season last year – can't wait to see what they come up with for second installment.  Then in February join in the fun for Disney's classic The Jungle Book.  The season wraps up in April with Disney's Peter Pan.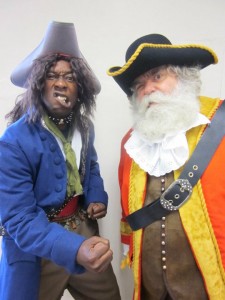 And one lucky FFC reader will get the chance to become huge fans of TCT just like we are!  We have a family four pack of tickets to How I Became a Pirate up for grabs.  To enter, simply visit The Children's Theatre of Cincinnati's website, look around at the new shows coming up and tell us which show looks most appealing.  Leave a comment here before Monday, October 11th at 11:59 pm and we'll draw the winner.
Win or lose, check out The Children's Theatre – I know you'll love it!  And you can learn more about The Children's Theater of Cincinnati by visiting their Facebook page (including cast photos from Pirate just added) as well as all the latest via their Twitter handle.   And hey! I just learned that Melinda Long, author of "How I Became a Pirate" will be at the theater October 15th to sign books before the show!  (Who says Twitter isn't EDUCATIONAL???)
Please note: the generous folks at The Children's Theatre of Cincinnati did supply FFC with the family four pack to giveaway but the opinions expressed here about how AWESOME they are were formed long before that!