Bob Evans has proudly called Ohio home for over fifty years. Bob Evans (the person, not the source of the world's yummiest biscuits) and his lovely wife Jewell purchased their farm in Rio Grande, Ohio in 1953 and the country-made magic began.   It was there that their now world-famous sausage was started. You can read the all about the wonderful history of Bob Evans and his family farm here.

Back in the day, Bob and Jewell's commercials included an invitation to one and all to visit the farm.  Soon, they were overwhelmed by visitors taking the up on the offer.  In response, a small restaurant was built to feed the masses. The Sausage Shop complete with four stools and six booths would become the model (and first) Bob Evans Restaurant.  Those historic stools can still be found in all their locations and they are P's favorite place to sit when we visit a Bob Evans almost weekly.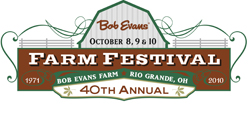 Bob Evans' Homestead, in addition to still being a working farm, is listed on the National Register of Historic Places.  I have always wanted to make a trek, so I was thrilled to be invited by the lovely Bob Evans folks to visit during this year's Fall Festival.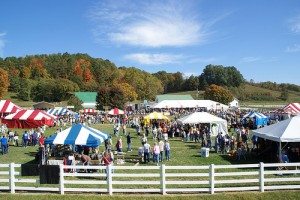 The festival kicks off this Friday, October 8th thru Sunday, October 10th; 10am to 5pm each day.  My GPS tells me the Rio Grande location is about a 2 1/2 hour drive from Cincinnati, so a perfect distance for a day trip.  Admission to the fun is only $5 for adults; $3 for kids and if you go Friday, each child receives a $3 coupon for food there, so they are basically free!  Many of the activities are included in the admission price and those that aren't are very affordable, face painting for $1.00 and games at the kids tent are only 50 cents!  Food is reasonably priced as well – grab a bowl of bean soup and cornbread for $3.50, top it off with cotton candy or popcorn for a buck!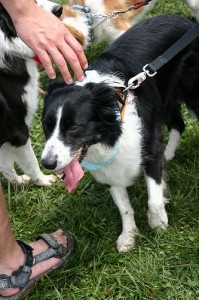 This year Bob Evans marks the 40th anniversary of its fall festival and it promises to be the best year ever!  With a ton of activities for the whole family and of course delicious food at every turn, I'm certain this will quickly become a family tradition for the Cribbs clan!
As a proud border collie family (that's a gorgeous Bella to the right there), Doug and I are especially excited about the border collie demonstrations and I can't wait to see P try her hand at milking a cow!
So if you're you looking for something fantastic to make this weekend memorable, read more about Bob Evans 40th Annual Farm Festival at their site; visit their Facebook page and follow all the latest from them on Twitter.
Hope to see you down on the farm…I'll be the one with the gravy on my chin.