My children are thrilled to see a firetruck up close and are in awe when they meet a firefighter.  That's why I'm excited that they'll have a great opportunity to see some of our brave heroes at the National Fire Heritage Muster held at the historic Spring Grove Cemetery and Arboretum on October 23-24.  This event celebrates and showcases our firefighting history while promoting fire safety. As an added bonus, you will also be visiting one of the most beautiful places in Cincinnati.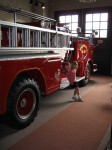 There will be plenty of fire trucks, antique firefighting equipment, and firefighters on hand.  Admission and parking are  free and there are lots of special activities planned such as (from website):
Vintage and contemporary Fire Apparatus displays.
Pumping demonstrations – see what those old pumpers can do!
Fire Safe House demonstrations.
Fire paraphernalia 'flea market' exhibits.
Cemetery Tram Tours of Fire Industry Pioneers – including Chris Ahrens, Charles Fox & Miles Greenwood.
Air Care & Mobile Care University Hospital Cincinnati demo.
The event is held on the grounds of the Gwen Mooney Funeral Home, and the American Veterans Traveling Tribute will also be on site. Their mission is "to honor, respect, and remember those who served, and thus those who are serving". If you aren't able to make the National Fire Heritage Muster, the AVVT display will be in the lobby of the Gwen Mooney Funeral Home from Oct. 22-24.
They'll also have grill sandwiches available and welcome donations.  The donations and proceeds from the event help benefit a local Cincinnati treasure, The Fire Museum of Greater Cincinnati as well as The Brian W. Schira "102" Scholarship Fund and the Delhi Fire Museum. You can also get discounted tickets (only $25/person vs. $40) to go to the Annual Fire Ball held on Saturday, Oct. 23 at the Fire Museum of Greater Cincinnati.
The pictures above are from our recent visit to The Fire Museum of Greater Cincinnati for the 2010 Fire Fest (click here to see more pictures).  This is a great museum for kids and admission is free for kids five and under with the purchase of an adult admission (they are closed on Mondays). Read more in our museum section on my personal website, MasonMetu, from me to you.
Spring Grove Cemetery
4389 Spring Grove Avenue Cincinnati, Ohio 45223 Call (513) 853-3730 for more information.  
The Fire Museum of Greater Cincinnati
315 West Court Street
Cincinnati, OH 45202 (513)