When my six year old wanted to forgo her friend birthday party for a family birthday dinner at PF Chang's, who was I to deny her that request.  We don't eat out all that much and she is a pretty picky eater so with Grandparents in town we indulged.  In fact, we've been back a few times since then to celebrate and this past Sunday, just because, we arrived at lunchtime hungry and without a plan.  When she was Student of the Week a couple of weeks ago she even put PF Chang's on her "Me, Myself and I" poster under the space for "I wish…" I could go to PF Chang's.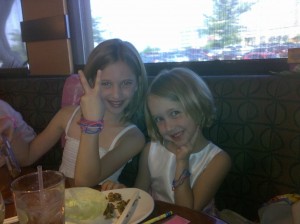 My six year old likes PF Chang's because it's always full of people and she likes a crowd, they give wiki sticks and an activity book with crayons and they have lo-mein noodles with chicken for her simple palate on the kid's menu.  I like it because we can make a reservation or place a take out order online and skip the wait with two hungry kids.  It's affordable, the service and the food is consistent and you can find lots of vegetables and healthier options on the menu, including the kid choices which are free of mac & cheese, hamburgers and pizza which I don't like to pay for when I'm out unless we've gone out for pizza or hamburgers.
To keep this dining experience more affordable and healthier consider sharing a meal or two.  Almost every selection serves 2 or more people so if you can agree on selections you can share and cut your cost and calories in at least half; if not, have the other half boxed for another meal.  I often don't allow my kids order off the kid's menu and give them a portion of my meal, however since PF Changs kid's menu choices are closer to the adult choices and very reasonably priced at $2.95-$4.95, including a drink, I have humored them.  The kid's plates are also generous and could be shared.  The nutritional information is all online in an easy to read format.  PF Chang's also has an extensive gluten-free menu and many vegetarian selections making it a good choice when dining with others who have varied food choices and needs.
To save 10% off your entire bill and receive other periodic promotions, sign up for the Warrior Card online before you go.  The last time we were there for lunch we ordered two adult entrees, two kid's meals and water to drink (an easy way to save several dollars); we had leftovers and our bill was $26 before the 10% off.
Locations
Rookwood Commons
2633 Edmondson Rd.
Norwood, OH 45209
(513) 531-4567
9435 Civic Center Blvd.
Streets of Westchester Bldg. 1
West Chester, OH 45069
(513) 779-5555
Phyllis McCarthy is a Health Coach and founder of CincyHealthCoach.  Phyllis helps individuals and families find the food that truly nourishes them and improves their health one bite at a time without deprivation and guilt.