I love exposing my kids to different forms of art.  I really love it when there's a great program that makes it easy and, more important, fun!  That's the wonder of ARTrageous Saturdays. This October marks the 24th Season of this great series.  It's presented by Raymond Walter College and the City of Blue Ash.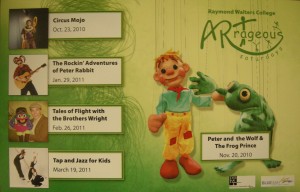 The 24th Series of ARTrageous has five fantastic performances scheduled:
Circus Mojo starts off the Series on October 23.
If you're a Family Friendly Cincinnati reader, then you know how much we love Circus Mojo!  Here's another chance for you and your kids to delight in the mini-circus with clowns, tight-wire-walkers, jugglers and acrobats.  Following the performance will be a short workshop.
Peter and the Wolf & The Frog Prince is the second performance on November 20.
The Frisch Marionette Co. brings two classics to life in this symphonic double-bill. Beautiful, handcrafted puppets act out Sergei Prokofiev's musical tale of Peter and the Wolf, and The Frog Prince, set to the lively music of Dmitri Kabalevsky.
The Rockin' Adventures of Peter Rabbit is the third performance on January 29.
ArtReach, a division of the Children's Theatre of Cincinnati, gives Beatrix Potter's beloved characters a modern musical makeover. Peter longs to escape the humdrum life in a rabbit hole. Through a series of rockin' escapades the restless Peter learns the importance of family and following your dreams.
Tales of Flight with the Brothers Wright is the fourth performance on February 26.
Madcap Puppets let your imagination soar with the amazing Wright Brothers!  This high-flying adventure is interwoven with the Greek myth of Icarus, the man who flew too close to the sun. Orville and Wilbur may have been the first to fly but Madcap's giant puppets will take you to new heights filled with wings, dreams, and flying machines!
Tap and Jazz for Kids is the fifth and final performance on March 19.
The Shelley Oliver Tap Dancers & The David Leonhardt Jazz Group join forces in this fun, educational, and interactive presentation. Through popular songs and audience participation, learn how jazz and dance artists use imaginative improvisation, rhythm, and melody to create a unique and joyful performance every time.
Performances are  held Saturday's at 11 a.m. and 1 p.m. in the Raymond Walters College Theater, located in Muntz Hall.  Parking is free. You can subscribe to all five shows for only $20 (WOW! What a great family friendly value!!), or you can choose three performances for $13.50. If you don't want to commit, you can purchase single tickets for $5 each.   ARTrageous also offers group rates as well as birthday party (cool idea Moms!!) and group packages.  Call the ticket hotline at 513-745-5705 for help and information or you can purchase your tickets on-line.
(Thanks to the ARTrageous website for content assistance about the various performers.)
You can read more of my musings on my personal blog, Princess Poodle Puss.