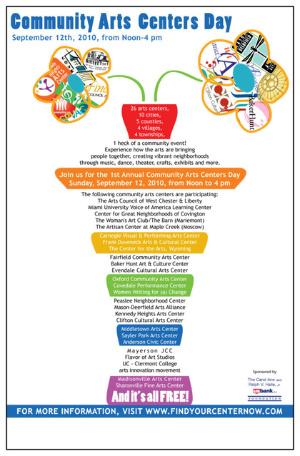 You may have noticed that since I started working for The Carnegie back in June, there have been a lot more posts on family friendly arts activities taking place around the city here on FFC.  To be honest, before I began working in the arts world, I had no idea HOW MANY GREAT ARTS PROGRAMS for kids and families were out there. It's insane!
I bring this up because this Sunday (September 12), art centers across Cincinnati will be participating in Community Arts Centers Day – a day that will have them all simultaneously opening their doors, offering FREE music, dance, theatre and craft activities as well as gallery tours and other fun arts activities from Noon – 4pm.  Did I mention this is all for FREE?
Twenty-seven community arts centers, will be participating in the day's activities. We've picked a few from across the region to highlight here, but you can find a complete list of Community Arts Centers Day activities on Cincinnati.com.
Mason-Deerfield Arts Alliance – The Mason-Deerfield Arts Alliance (MDAA), in partnership with the Cincinnati Art Museum, invites the community to join them at the gazebo at Cottell Park, 5847 Irwin-Simpson Road, to create a community found object collage.
The beauty of the park will be embodied in the work of art created by the community. Participants will also create their own "take home" collage projects, too!  The community project will then travel to Natorp's Garden Store, located at 5373 Merten Drive, Deerfield Township, for customers to enjoy for two weeks. Cottell Park | 5847 Irwin Simpson Road | Cincinnati, OH 45040
The Center for Great Neighborhoods (CGN)- Tour a digital photography exhibit featuring the works of Covington teens in the Art by Covington's Future program, under the instruction of artist Matt Steffen.  The exhibit will showcase 20 photographs chosen for the Covington Neighborhood Collaborative's Architecture of Covington 2011 Calendar.  The exhibit will also include pictures students took on their daily treks throughout Covington.  CGN will also host a performance and workshop by Covington's My Nose Turns Red Youth Circus (MNTR) on the patio at 1:30 pm.  After the show families will have the opportunity to walk the wire (low high wire), balance on the rola bola and rolling globe and learn to juggle.  MNTR will also bring out the hula hoops for everyone to take a spin. Center for Great Neighborhoods of Covington | 1650 Russell St | Covington, KY 41011
Miami University Voice of America Learning Center – The Voice of America Learning Center offers a "buffet" of fun arts activities throughout the afternoon:
Area Art Show Opening * Fun Family Art Making Activities * International Food Artist Terry Border * Chinese Painting Demonstration * Poetry Slam *Sidewalk Chalk Art * Plein Air Painting Demonstrations * Classical Guitarist James Lentini and Soprano Dana Lentini * Strolling Actors from C-PAL and New Gate Celtic Theatre Group * Little Dipper Oil and Artisanal Bread Sampling * West Chester Symphony Woodwind Quintet * Music by Plastic Inevitables …and more! Miami University Voice of America Learning Center | 7847 VOA Park Drive | West Chester Township, OH 45069
Sayler Park Community Center — Come see artist Diane Johnson as she demonstrates caricature drawing from Noon-3 p.m. Live music outdoors noon-2:30 p.m. ;  students from Betz Music will perform and chalk drawing will take place outside the Arts Center. Art work created by local artists will be on sale from Noon – 4pm.  Sayler Park Community Center | 6720 Home City Ave | Cincinnati, OH 45233
The Carnegie Visual and Performing Arts Center – The Carnegie hosts Deep Sea Discoveries, an imaginary trip to the bottom of the ocean where children will discover new forms of life. Participants will design new ocean environments, plant life and creatures while exploring various art forms.  Visitors will also have the opportunity to tour the A Time to Celebrate exhibition in the Galleries. Carnegie Visual and Performing Arts Center | 1028 Scott Blvd | Covington, KY 41011
Women Writing for (a) Change – Come explore new ways to make meaning with words, color, music and art forms. Learn how to compose group and individual poetry inspired by art. Browse WWFC's Young Writers' Art & Writing Gallery. View Shepard Fairey Mural and make music on outdoor piano. Women Writing for (a) Change | 6906 Plainfield Road | Cincinnati, OH 45236
Peaslee Neighborhood Center – Come take part in a collaborative art project! Help create a mosaic of self-portraits that tell neighborhood stories . Family portraits will also be available and a showcase of art works and photography created by students will be on display. Peaslee Neighborhood Center | 215 E. 14th St |Cincinnati, OH 45202
So there you have it! Lots of great FREE ways to spend your Sunday afternoon — out exploring the arts with your family.