This weekend is the mack-daddy of weekends in the Cincinnati.  The 3-day break brings the return of the WEBN Fireworks and Riverfest, but there are oh so many more things to do in the Tri-State.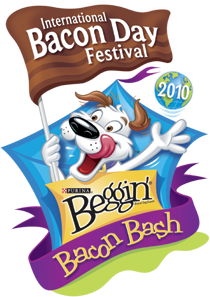 Our top picks?
Take a CREEK ROMP at the Cincinnati Nature Center on Saturday either at 1pm or 4pm.
Leash up your favorite four-legged fury and treat him or her to the Free Beggin' Bark and Bacon Bash.  Blue Ash Recreation Center will celebrate International Bacon Day.  Cooking demos by Kevin Gillespie (Top Chef's top pork performer), there's a bacon eating contest and even a bacon maze for the pooches!  Saturday 10am-5pm
Should you find yourself in need of even more bacon, visit Kroeger & Son Meats at Findlay Market and stock up.  Summer is nearly over, so soak up all the goodness the Market has with fresh veggies, fruits and oh, don't forget the Belgian Waffles!  Please note – Finlay Market is CLOSED on Monday! But you can visit all day Friday, Saturday and Sunday!
VAROOOM all weekend long at the Cincinnati Museum Center with Legends of Flight.  Check site for showtimes.
Or if you want to check out the real thing , in miniature anyways, head to Wright Patterson Air Force Base 8am to 5pm on Friday.  They will play host to an amazing display and aerial show for giant-scale radio-controlled aircraft.  FREE!  Call 937-255-1283 or nationalmuseum.af.mil for more details.
Do a little fishing in the dark at Voice of America Park on Friday at dusk.  Contact VOA at 513-867-5835 or metroparksofbutlercounty.org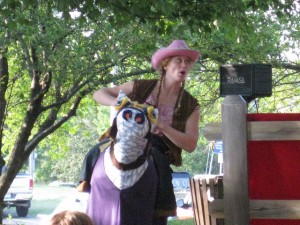 Madcap Puppets will present "Annie Oakley's Wild West Show" Friday at 7pm at Sharonville Community Center.  I took P to see this show earlier this summer and SHE LOVED IT!  It's fun for the whole family!
As we reported earlier this week, Cirque Devou is back in business on Saturday at (well, where else?) Devou Park.  You can save yourself the headache of parking and catch the FREE TANK BUS from Covington Catholic High School and they'll drop you right there.
Who doesn't love a little Riverdance?  If your little people have ever expressed an interest in dance, Erickson Academy of Irish Dance is hosting an Open House Saturday at 10am.  Something out of the ordinary to check out!

Take a run on the wild side with The Cincinnati Zoo's annual Cheetah Run this Sunday.  Ages 12 and up are welcome to have the wind rush through their hair as they tackle this 5k tradition.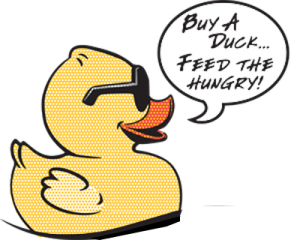 Shannan shared the scoop on the amazing Rubber Duck Regatta and it is finally here!  You'll QUACK up as thousands of duckies plung from the Purple People Bridge Sunday at 3pm.  One lucky duck will win a NEW CAR!  Swim duckies SWIM!
As with every weekend, the Hamilton County Park District has a ton of fun for our families:
LIAR'S CLUB: Can you smell out a fib?  Test your truth-o-meter as the naturalist spins some yarns.  Prizes for the best truth-seekers.  Winton Woods – Harbor Pavilion at 2pm on Saturday
Go TAKE A HIKE on Saturday, 9am at Woodland Mound Seasongood Nature Center; enjoy a hike led by a naturalist to the prairie
Jeepers Creatures!  Miami Whitewater Forest Visitor Center on Sunday at 11am and 2pm
Kids Cooking Classes at both Whole Foods locations – 10am on Saturday.  Make sure you register either with Rookwood or Deerfield.
The annual Florence Labor Day Parade kicks off at 2pm on Sunday starting at the Florence Government Building and rolling down Ky 18.
When Monday rolls around…REST PEOPLE!  I know I'm gonna!