Are you looking for a family friendly event involving beautiful music and elaborate circus acts?  Then mark your calendars!  This coming Saturday Circus Mojo will be collaborating with the Kentucky Symphony Orchestra for a performance that is sure to entertain the whole family!  Check out the press release below for all of the details.  See you there!
(The KSO & Circus Mojo team-up to define clowning around)
7:30 p.m. September 4, 2010
Devou Park Amphtitheatre. Covington
The circus is coming to Devou Park on September 4th. There won't be a big-top tent or elephants, but high flying, spinning, firebreathing, juggling acrobats and clowns will offer fun, thrills and nostalgia for the entire family.
Paul Miller, creator of Circus Mojo, and former Ringling Bros. clown, convinced his professional circus colleagues from around the country to converge on Covington's Devou Park for a one-night only, multi-ring extravaganza, accompanied live by the KSO. World-class trapeze artists Duo Rose will perform their international award winning aerial / contortion act (check them out on Youtube), while Cincinnati native, Harry Moeller appears as "the human spoke" (Harry is just off the Britney Spears "Circus" tour). New York based Cirque du Soleil instructor Amy Chen offers aerial, firebreathing and juggling skills, while Paul Lopez walks a free standing ladder (Paul has worked with the Flying Wallendas and was a part of the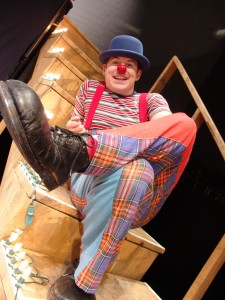 seven-person-pryamid). And these are just a few of the performers slated to appear.
Musically, the KSO digs into the old circus band music as well as new Klezmer-esque sounds of Peter Bufano's Cirkestra, plus classical and movie favorites (see program).
The concessions have stocked up on popcorn, hotdogs, cotton candy and snowcones, so all we need to close out the KSO's 16th Summer in Devou Park is you! Join Music Director James Cassidy and the KSO with Circus Mojo, Saturday, September 4 at 7:30 p.m. The Free TANK Shuttle from Covington Catholic to the band shell starts running at 6:00 p.m. Bring blankets or lawn chairs and pack a picnic.
For more information and directions, visit the KSO at www.kyso.org or call (859) 431-6216. Free admission and parking; $5 donation suggested.