Can you feel it in the air?? The temperature is finally starting to drop and much to my hearts desire, fall is just around the corner!It's my favorite time of year.
This weekend there's some great stuff happening all over the Tri-state that will have you out enjoying this weather.From outdoor movies to 5Ks to baseball games, we think you'll find there's something for everyone. So what are you waiting for? Get out and enjoy our city with your family!!
———————————-
Great sounds and stories from the acclaimed group Drums for Peace and free UDF Homemade Brand Ice Cream—it doesn't get better than that. Stop by the Taft Museum on Sunday from 1-3 p.m. for its annual end-of-summer event. It's all free, as is museum admission and parking. Bring your own lawn chairs or blankets. Bring friends and neighbors for a wonderful Sunday afternoon.
Love Mark Twain? Then you'll want to check out BIG RIVER: The Adventures of Huckleberry Finn at The Carnegie Visual and Performing Arts Center in Covington. Playing Friday (7:30), Saturday (7:30) and Sunday (3pm), tickets are just $26; $19 students; Enjoy the Arts & WVXU members $23. For tickets call The Carnegie Box office at (859) 957-1940 or go online to http://www.thecarnegie.com. Disclosure: I work here.
Batter Up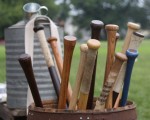 ! This weekend the Cincinnati Reds take on the Chicago Cubs. Ticket prices vary but start as low as $5; Game times are Friday– 7:10pm; Saturday – 7:10pm; and Sunday 1:10pm. For inside tips & savings, check out Phyllis' post on Great American Ballpark for families.
Go back in time Saturday at the Heritage Village at Sharon Woods and watch as Vintage Base Ball teams the Cincinnati Red Stockings host the Norwood Highlanders. Games are scheduled for 1pm & 3:30pm and you can read more about it in yesterday's post from Amy.
Head up North to Mason for their annual Heritage Day Parade on Saturday, Aug. 28 and see the crowing of Little Miss Heritage and her court. Parade starts at 10am and there are festivities all day – music, food booths, entertainment and more. Sponsored by the Festivals of Mason. Click here for a schedule of events.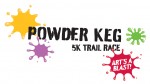 For any race enthusiasts, join in the fun in the Powder Keg 5K sponsored by the Mason-Deerfield Arts Alliance and Deerfield Township. The race takes place at the historic Kings Mansion on Saturday at 9am and proceeds help with future arts programming for the MDAA.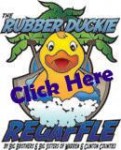 For any water park fans, head over to Great Wolf Lodge in Mason on Sunday, Aug. 29 and support a great cause during the Rubber Duckie Regaffle. All proceeds benefit Big Brothers Big Sisters of Warren and Clinton Counties. If you purchase your tickets online by 10pm on Aug. 28, they are only $15 ($20 day of event). Open from Noon-8pm.
It's time for Taste of Blue Ash! In it's 25th year, Taste of Blue Ash features food from local restaurants, carnival type games, rides and plenty of live music. Taste of Blue Ash runs 6-11 p.m. Friday and noon-11 p.m. Saturday-Sunday.
Saturday evening head down to Fountain Square for Toyota's Movie Night, featuring Happy Feet at 7:30pm. Be sure to get there early to snag a good spot and bring a folding chair and maybe even a blanket too!
Prepping for the Rubber Duck Regatta, the FreeststoreFoodbank will host its annual Quacky Races Friday from 11-2:30pm on Fountain Square. The races feature corporate teams dressed in awesome duck inspired costumes and are sure to have your children in stitches.