While I was reading up on the Old West Festival the other night, one of the features I was most intrigued by was their America's Pastime theme weekend in October.  It was the first I had ever heard of Vintage Base Ball (yes, two words – it didn't become "baseball" til the 1880's).  And even more surprising was the fact that my hometown of Norwood has a team!  The Norwood Highlanders are amid their inaugural season and their home turf is Dorl Field – where I played soccer and softball as a child.  Well, once I found that out I had to know more!  So I contacted the Captain of the Highlanders, Col. Jim "Cornbred" Mattingly, to round up more information.

Vintage Base Ball  is played by the rules established in 1869.  The games follow the traditions and values of a time when base ball was pure entertainment and good ol' exercise.  Sportsmanship and gentlemanly behavior are top priority, making it an ideal activity for families to enjoy together.  The teams play in accurately recreated uniforms with equipment that replicates the standards of the period.  All rules, customs and terminology of base ball's early days are adhere to.  So not only is it fun and family friendly, it's educational with a ton of live history played out before you.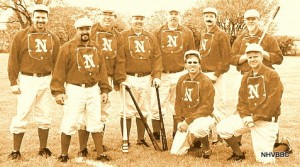 The most notable difference fans (known in 1869 as "CRANKS") will see is the fact that players do not use gloves – wowza! And Cranks are sometimes called upon to weigh in on close calls even!
As we are in most things, Ohio is a leader in Vintage Base Ball clubs – over 19 are listed with the Vintage Base Ball Association and even more  like the Highlanders are starting up around the state.  Luckily, Cincinnati has two other teams: Cincinnati Red Stockings and Cincinnati Buckeyes.  And you can check out and ALL THREE  of our local teams will be at the Old West Festival the weekend of September 18-19.
You can check out the remaining schedules for the Stockings and the Buckeyes on their sites.  Both teams call the Heritage Village at Sharon Woods home – an amazing location to go back in time, eh?
The Highlanders' remaining matches for this season are as follows:
August 28th (THIS SATURDAY)  vs. Cincinnati Red Stockings – Heritage Village, Sharonville
September 11th vs. Rising Sun Belle Rivers – Rising Sun, Indiana
September 25th vs. Dayton Clodbusters – Carillon Park, Dayton, Ohio
October 9th vs. Cincinnati Red Stockings – Old West Festival, Mt. Orab, Ohio

They play Saturday at 1pm & 3:30pm – you'll need to pay the usual fees to enter Sharon Woods ($5 for an annual pass – but I bet most of you have that already!) and then $3 per person to enter the Heritage Village outdoor museum where the game is held.
And if Saturday doesn't work, find another date with one of the teams, pack a picnic and a blanket (or you lawn chairs) and have a memorable family outing everyone is sure to love!  I can't wait to check the teams out and hope to see you there!
Photographs highlighted in this post were taken from the teams' websites and facebook pages – be sure to check them out for even more fun pics!