Living near Cincinnati, we are afforded the opportunity to enjoy so many outstanding art venues, theatres, talented musicians, dancers and more.  The Cincinnati Ballet, Cincinnati Pops, Music Hall, Cincinnati Art Museum, and the Aronoff Center for the Arts are all names that are easily recognized and greatly appreciated.  If you travel beyond the heart of the Queen City, there are many smaller art centers that not only offer quality programming but they also offer family-friendly art opportunities. One place nestled northwest of Cincinnati in the "City of Sculpture" (Hamilton, Ohio) is the Fitton Center for Creative Arts.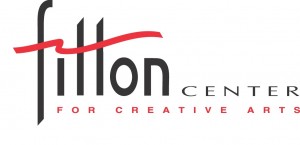 The Fitton Center is a "not-for-profit community arts center featuring a variety of programs, including: visual and performing arts classes, exhibitions, entertainment and theatre productions, for all ages". They have so much to offer for families. Since they are so close to Mason, I am excited to find a new art venue to enjoy. After looking over the upcoming Fitton Family Friday's season, I think I've found a new and affordable place to take my girls to enjoy live art events.  They even provide a pre-show reception with kid friendly drinks and appetizers.
In addition to Fitton Family Fridays, there are many other great programs at The Fitton Center.  Both children and adults can take classes. I pulled up some of the unique classes they offer – drumming, Henna design, Study of Guitar, the Art of Indian Cooking, and more.  Their "Educational Arts" programs have classes in both visual arts and performing arts.
I love that they make it a priority to encourage families to attend their exhibitions and their art openings always have a free welcome reception with the artist on hand. They have changing art exhibits that are family-friendly and encourage young artists to not only find inspiration but to be a part of the art world. If you feel inspired, stop by their Creation Station and make your own art.  The Student Gallery showcases many of these fine pieces of work.  I know my girls would be thrilled to have their art work featured on the wall.
The Fitton Center has even more to offer; The Mad Anthony Theatre showcases live theatrical performances from their semi-professional theatre troop and if you visit the Benninghofen Theatre on the fourth Tuesday of the month, you can enjoy free live music with the Music Café . If any of the above has sparked your interest and you want to further support a local community art center, consider becoming a member.   Members receive discounts on classes and performances.  They also welcome volunteers and would love to add you as a FAV (Fitton Art Volunteer).
The Fitton Center for Creative Arts
101 South Monument Avenue Hamilton, OH 45011 Phone: (513) 863-8873 ext. 110     To learn more about me, visit my personal website,
MasonMetu
, "from me to you".