Are you looking for a family friendly place that serves a tasty breakfast?   Well, look no further than Newport!  Mokka is one of our family's favorite places for breakfast/brunch!  Mokka is a family-owned and operated restaurant that began in a small building on York Street in Newport.  But they quickly outgrew their home and had to move.  For a brief time they were located at the Syndicate, but a few years back they moved again to the corner of 5th and Monmouth in Newport.  I love their new location, it's bright, and roomy.  I'm not sure what the atmosphere and ambiance are like in the evenings, but during the day it's a very cheery place to stop for a bite to eat!  I love all of the ever-changing artwork on the walls.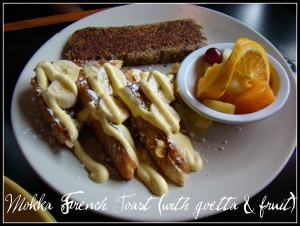 Breakfast & Lunch are served from 9am until 3pm.  My all-time favorite on the breakfast menu is the Mokka French Toast, which according to their menu is "battered with sweet corn flakes & topped with crème brulee pastry cream and fresh bananas". I cannot describe to you how delicious this is, you will just have to go and taste it for yourself!  The French Toast comes with breakfast meat & fruit or potatoes (get the potatoes!).  I also enjoy their breakfast club, and their goetta grilled cheese.  Ok, you got me; I like everything I've ever tasted there.  But my favorite will always be the French toast!  There is no Kid's Menu for breakfast, but I just order the pancakes for my kids and a side of fruit and/or bacon.  It is more than enough food for them!  I have not tried any of the lunchtime food, but I have heard good things about that menu as well.  And there is a lunchtime Kid's Menu with reasonable prices.  At 3pm Mokka becomes the Sunset Bar & Grill (at least this is how I understand it).  The menu changes to appetizers and dinner food.  I have never been in the evening, but I've been wanting to check it out, so if you have been in the evenings please comment below and let me know what you think!  Is it family friendly?
So here it is in a nutshell:  Mokka is a great place for families and children, the staff is very sweet & friendly, and the food is consistently delicious!  And…bonus…the food is not only yummy, but it is affordable too.  If you haven't tried it yet, I highly recommend it!  If you have tried it, what is your favorite thing to eat at Mokka?
Mokka and the Sunset Bar & Grill
500 Monmouth St.
Newport Kentucky
859-581-3700
Wander on over to www.thelittlethingsjournal.blogspot.com to see what Katie and her little things are up to this week!