There is so much happening Downtown and our family has been taking advantage of the free family fun all Summer long.
First up was a trip down for the Toyota Movie Night on the Square. We packed up a terrific picnic and our lawn chairs, and once the sun went down the Square was perfect. Great movies, fit for the whole family and there isn't a bad seat in the house. And unlike a theater where being a kid is frowned upon (you know, broken nob on the volume control and generally lacking in awareness of others around them), on the Square, kids can spread out and be themselves and no one's troubled.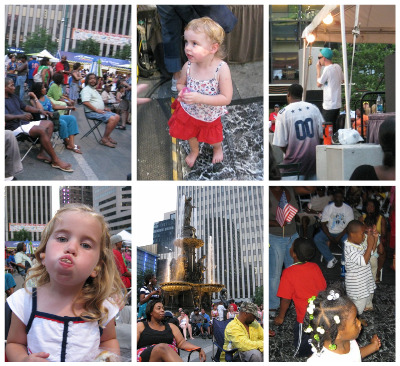 Next, we headed down on a Sunday night for some cool tunes on a hot night. The band was great and the crowd was either singing along or bustin' a move all evening long. I even boogied a little bit myself (sorry, no pics of that folks!).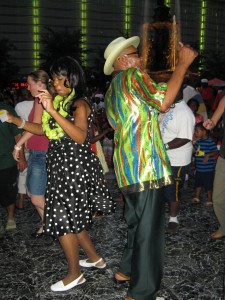 Last weekend, we were at the Contemporary Arts Center for a program at the UNmuseum. It was P's first time there and she had a blast. And I'm pretty proud of my artistic creation (watch out Kate Spade!):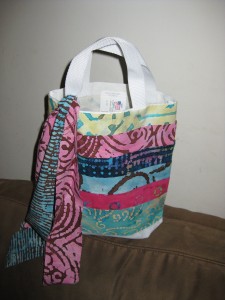 Let's face if folks, Summer is coming to a close and quick! You only have a few weeks left to make the most of it. Check the Fountain Square and Downtown Cincinnati websites for all the details on every event they have going, but here are some highlights we're got on our to-do list for the next couple weeks:
Family ARTventures – every Saturday (1pm) & Sunday (3pm) at Cincinnati Art Museum

Cincy Blue Fest – August 6 & 7 at Sawyer Point

Downtown Dash & Block Party – August 6 at St. Xavier Parish Proceeds benefit Downtown organizations that help aid the needy in our community. There is a Kids Dash and after-party including a rib dinner.

Family First Saturday – August 7 at Cincinnati Art Museum

Thursday ArtPlay -Thursdays 1pm-2pm at Contemporary Arts Center

Toyota Movie Night – Saturdays starting at 7pm on Fountain Square UP NEXT: Charolotte's Web and Much Ado About Nothing on August 7th – Much Ado is one of my favorite movies of all time!
AND great music all the time on the Square – just check out the schedule!
Make the most of these last days – Happy August!