As usual, folks, Cincinnati is overflowing with family-friendly fun this weekend. I don't know about you, but we're getting a little stir-crazy after all this heat. (OK, I admit, we're wimps when it comes to humidity.) It's time to get out and enjoy some of this great city's summertime happenings! So without further ado, here's what we found:
Friday
Bring your balloon-loving kiddos (ages 5 and up) over to Joseph-Beth Booksellers in Norwood at 2 p.m. for Balloon-a-palooza. While you shop for a hot summer read, they can enjoy balloon stories, balloon games and relay races, balloon animals and more.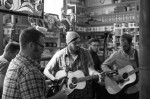 The libraries are doing some entertaining events for tweens and teens (perhaps lure them away from the Wii for a bit?) At Covedale Branch Library (6:30–8:30 p.m.), 6th through 12th graders can team up to play Clue as characters from the classic game. Prizes and snacks are included. Over at Green Township Branch Library (7 p.m.), your 4th through 6th graders get to solve a mystery at Tween Mystery Night (they'll love the theme: My Grandma's Going to Kill Me!).  And the Erlanger Branch Library (7 p.m.) is putting on what sounds like a terrific concert, featuring the Mt. Pleasant String Band, a five-piece bluegrass/old-time band with a unique, high-energy sound.
Friday afternoon from 4 to 8 p.m., the Cincinnati Museum Center is opening its doors to all, with free admission to all of its museums, including The Art of Caring America I AM exhibits.
Looking for some family-friendly theater? The Tri-County Players summer campers (ages 6-14) will perform Fairly Odd Tales, a collection of fun fables and fairy tales with some musical interludes. The entire show has been conceived, developed and performed by TCP youth–pretty cool! Shows are at 2 p.m. and 7:30 p.m. at the Sharonville Fine Arts Center ($5, free lap sitters ages 3 and under).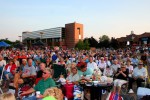 Ready to rock out under the stars? Bring your blankets and chairs to Blue Ash Towne Square for the Forever Diamond show. Tributes to Neil!!! Get your kids hooked on all the goodies, from "Coming to America" to "Cracklin' Rosie"!!! This free concert starts at 8 p.m. — but I'd suggest you get there early for a good spot in the square.
Saturday
More fun stuff at the libraries! At the Deer Park Branch Library, kids are cordially invited to Deer Park's swanky Walk of Fame Star Party (noon), where they can decorate their very own stars. The Mary Ann Mongan Library in Covington will host Terry Francis, Magic Man, (2 p.m.) for some slight of hand, rabbits out of hats and who knows what other mayhem? Meanwhile, the Clifton Branch Library will be overrun with pirates at Pirate Island Madness (2 p.m.) — complete with limbo contest and conga line!
Do your kids enjoy DreamWorks movies? Saturday night Fountain Square Movie Night feature's the adorable animated film, Over the Hedge (followed by King Kong for parents of older kiddos). Movies are FREE so grab a cooler & some lawn chairs and head down to fountain square!
Sunday
What's more fun than free ice cream and comedy? The Erlanger Branch Library's having both at its Ice Cream Social (3 p.m.), with comedian/juggler/ventriloquist Mike Hemmelgarn for some funny, family comedy and ice cream from the Trauth Dairy Taste Team.
Dogs are important members of the family, too! Treat your pup to a little R&R at the Kenton Paw Park Pool Party (noon to 4 p.m.) Fido can splash around and cool off in baby pools located throughout park. Water and food will be available. There are even raffles to benefit Friends of Kenton Paw Park, the non-profit organization responsible for maintaining paw parks in Kenton County, Ky.
All Weekend
Friday and Saturday (8 a.m. to 11 p.m.) are the last two days of the Butler County Fair in Hamilton. Take a look at FFC's local fair roundup for details about this and other upcoming fairs.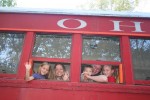 Make some magic with the kids this weekend on Lebanon Mason Monroe Railroad's "Magic Train," a day of magic and fun with Brett Sears, professional magician. Your ticket includes a ride to LM&M Junction, a 30-minute magic show, and one-on-one magic with Brett. See the LM&M website for ticket prices and show times.
Put on your dancing shoes, kick up your heels and get ready to salsa at the Cincinnati Salsa Festival. Held on Saturday and Sunday at Sawyer point, the festival features cultural crafts, food and drink vendors, Children's World, professional dance performances and dance workshops, and Tri-State Salsa Open Championship.